On tasting beer & chocolate together - When tasting chocolates, you focus on fragrance (what you initially smell when you open the package), feel (the texture of the chocolate as it melts in your mouth), flavor (what you taste that may be different than what you smell) and finish (the lingering effects in the mouth). It is important to look at each of these elements when sampling beer as well. You are searching for pairings where the elements of both products are either similar in comparison or the contrast of opposites that may be in harmony and balance. The best beers and chocolates available are achieved by finding that delicate equilibrium of sweet and bitter flavors, therefore making themselves natural partners to pair together.

Pairings done for Valrhona by Jenny Benzie, Head Sommelier and CEO of Pour Sip Savor click here for more information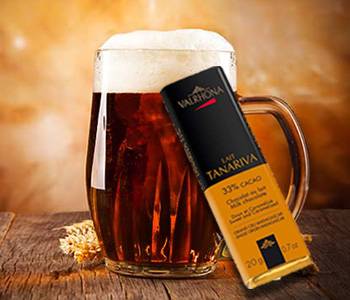 This soft, creamy chocolate with a lush, round texture has hints of caramel, honeysuckle and orange blossom. An Amber Ale, typically light copper to light brown in color, will offer a balance of caramel and malty flavors that will pair well with the floral components of this chocolate while not overpowering it. Even though considered a dark beer, a Vanilla Porter (Domestic) will enhance the sweet, smoothness of the chocolate by highlighting the vanilla nuances of the beer with the caramel flavors of the chocolate for a seamless match.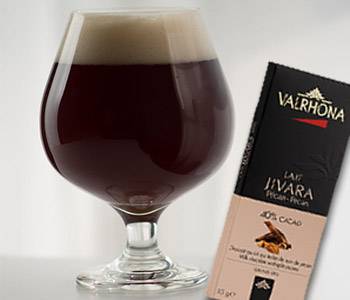 This chocolate is full of creamy flavors with a slight trace of vanilla, an apparent sweetness on the palate and a wet, earthy texture. The smell is reminiscent of childhood Easter Egg hunts. This chocolate would be well complemented by the smoothness of an Oatmeal Brown Ale (Domestic) with matching textures and levels of sweetness from the use of oats in the production of the beer. For a complex, but fruity choice, a Belgium Style Ale (American) will be fresh and smooth on the palate, while counteracting some of the sweetness in the chocolate.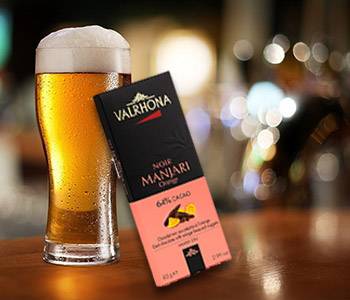 Orange peel, citrus zest and clove add a mid-palate zing to this chocolate, with almond and mocha undertones. A perfect pairing to complement these lively fruit flavors and the moderate texture of the chocolate is a Tangerine Wheat (Domestic) made with all natural ingredients and with enough substance to match the weight of the chocolate. For a slightly different style of beer, an Apricot Lambic, produced by spontaneous fermentation with indigenous yesats, would again highlight the sweet, tangy fruit of the chocolate and offer a more rustic, earthier taste on the palate.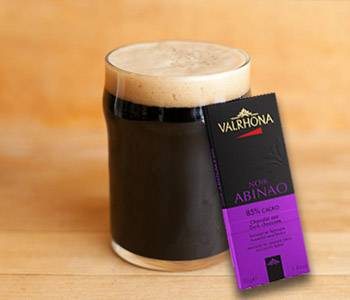 This strong, robust chocolate has deeply earthen, unadulterated flavors of burnt coffee, intense bitterness and a chewy, thick texture. To complement this aggressiveness, an Imperial Stout is just as powerful and dark as the chocolate, along with an elevated alcohol level to maintain everything about this pairing as over indulgent. To soften the heartiness of this chocolate, the nourishing, sweet creaminess of a traditional British Milk Stout that contains lactose will soothe this chocolate and pair well with its thick, almost pasty texture by softening the finish.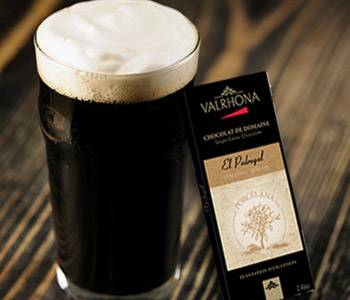 El Pedregal 64% Dark Chocolate
This chocolate has soft, earthy flavors of mocha and coffee bean that are complex, yet mellow, with a dusty texture and slight bitterness on the palate. For a taste to complement these characteristics of the chocolate, an Irish Stout would offer texture and rich, hearty, aromatics without overwhelming the palate. The slight bitterness of the chocolate would match with an Extra Special Bitter which, despite the name is mildly aggressive, but not overpowering and will balance with the taste of the chocolate.
Spicy exotic notes of cardamom and amber, along with a weighty, meaty texture make this chocolate rich, full and long-lasting on the palate. This pure expression of chocolate calls for an Old World style beer - a Belgium Strong Dark Ale has enough sweetness and bitterness to pair with the floral, yet oaky character of this rugged chocolate. To make a comparison, a Black Lager, with a strong roast chocolate flavor and complex taste while remaining light in weight and texture on the palate, allows the chocolate to follow-through and shine on the finish.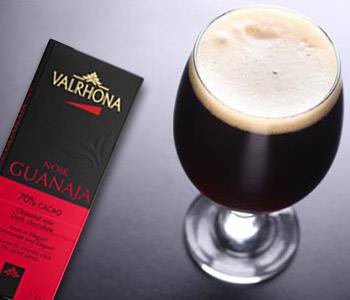 This meaty, dark mocha, dry and tannic chocolate deserves a beer just as bitter and almost as bold as it is. A Double Chocolate Stout is rich, full-bodied and concentrated, yet will nicely balance with the intensity and complexity of the chocolate. To counterbalance the 'sauvage' characteristics of the chocolate, a Dark India Pale Ale with strong floral and citrus notes will sweeten and soften the almost harsh finish of this chocolate.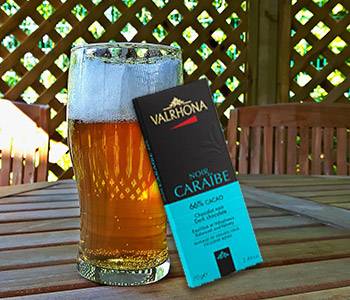 A very subtle chocolate in aroma and flavor, the mild earthiness and moderate texture will pair with beers that have these slight nuances themselves. Oktoberfest/M rzen beers, made in the spring for fall consumption, will pair with the earthy characteristics without overpowering this more refined chocolate. For a simple complement that may even uncover some hidden flavors of the chocolate, pair this with an English Bitter that, despite what may be implied by the name, is lightly creamy with a gentle earthiness and is not bitter.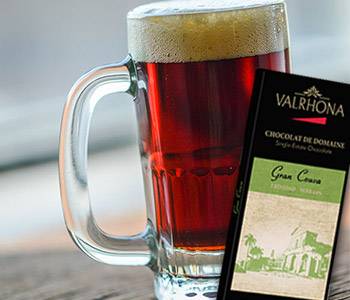 The 'heat' on the palate of the chocolate is akin to mild red pepper chili flakes, lively and vibrant with pronounced red fruit character. A perfect pairing to this is a Holiday Ale that highlights these spicy components of the chocolate - cinnamon, nutmeg and allspice, while having the same weight and texture as the chocolate. To best complement the red fruit nuances and tame down that heat, an Irish Red Ale with a bit of sweetness and tea-like qualities will create a balance of flavors with a pleasantly dry finish.