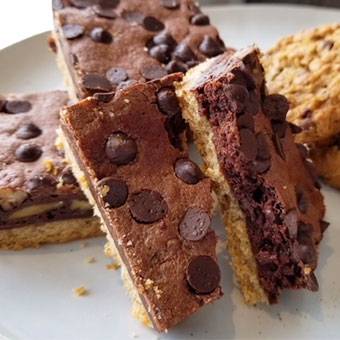 CHOCOLATE PECAN BARS
An orginal recipe by Chef Daniel Keehner of Union Square Events.
Category: Cookies & Bars
Difficulty: Medium
Makes one cookie sheet
210g sugar
7g salt
100g pecans
196g butter
4ea yolks
15g baking powder
280g all-purpose flour
40g dark brown sugar
40g bread flour
390g corn syrup
390g maple syrup
5ea eggs
25g Bourbon
15g salt
80g butter (melted)
345g pecans (toasted & chopped)
INSTRUCTIONS
Crust
Grind the first 3 ingredients together to a fine powder.

Mix the grounded powder with the butter until light and fluffy.

Slowly incorporate the yolks, then the baking powder and flour.

Press into a parchment lined baking tray.

Bake at 325°F (163°C) until golden brown.

Pecan Filling
When the crust is ready and cooled, mix all ingredients until incorporated except or the Chocolate Chips 60%.

Pour the mixture onto th tray and sprinkle chips on top. Bake at 325°F (163°C).