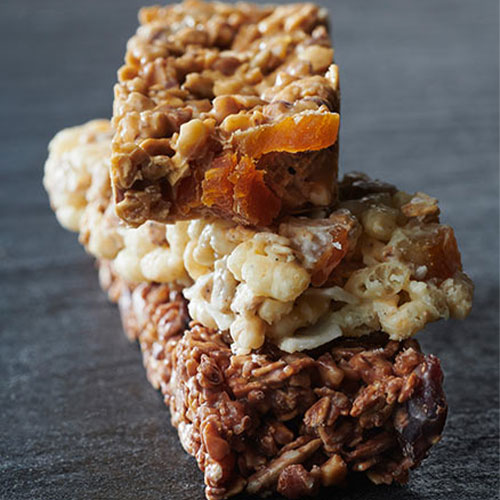 DULCEY GRANOLA BARS
An original recipe by l'Ecole Valrhona
Category: Cookies & Bars
Makes 8 to 10 pieces
Difficulty: Easy
Discover Similar Recipes:
INGREDIENTS

100g oats
25g sunflower seeds
25g flax seeds
25g chopped almonds
15g chopped pistachios
15g chopped pecans
25g honey
25g brown sugar
15g dried cranberries
15g dried apricots
200g Dulcey® 35% Blond Chocolate



INSTRUCTIONS
Dulcey® 35% Blond Chocolate GRANOLA BARS:
Mix together the oats, sunflower seeds, flax seeds, almonds, pecans, pistachios, honey and brown sugar.

Bake the mixture at 355°F (180°C) for 10 minutes – mix again halfway through.

Once out of the oven, leave to cool, then add the dried apricots and cranberries.

Slowly melt Dulcey® 35% Blond Chocolate in the microwave (on "defrost" or at 500 W maximum, stirring every 20 seconds). Finish off by adding the melted Dulcey® 35% Blond Chocolate.

Put the mixture in a rectangle silicone molds and leave to set in the refrigerator for 20 minutes.

Cut the granola bars to your preferred length.