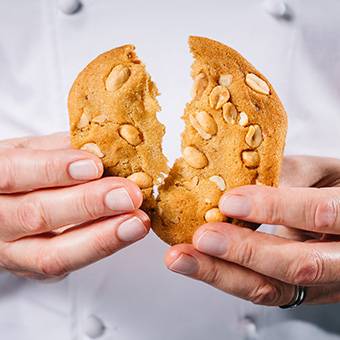 EVERYTHING PASSION COOKIE
Recipe by Chef Derek Poirier, Valrhona Pastry Chef
Category: Cookies & Bars
Difficulty: Easy
1 cup butter
1/2 tsp salt

3/4 cup sugar

3/4 cup brown sugar
1 ea eggs
2 1/4 cup pastry flour
1 tsp baking soda
1/2 cup coconut flakes
1/2 cup peanuts
1/2 cup rolled oats
1/4 cup almond paste
2 tsp cream
INSTRUCTIONS
Cookie Dough
Cream the butter and sugar. Then add in the eggs.
Add the flour and baking soda.
Mix in the coconut, peanuts, and oats. Then add in your chopped Passion Fruit Inspiration and Orelys 35% Blond Chocolate.
Roll into a 2 inch diameter log wrapped in plastic wrap, and rest in the refrigerator.

Inspiration Filling
Melt the Passion Fruit Inspiration. Add the heated cream gradually, whisking to create an emulsion.
Once the mixture is completely combined and shiny, gradually add this Passion Fruit Ganache to the warmed almond paste. Mix well or use an immersion blender to completely combine.
ASSEMBLY & FINISHING
Cut the cookie dough into slices.
Take a small scoop of the Inspiration Filling, and place it on the middle of a slice of cookie dough. Place another slice of cookie dough on top to completly sandwich the Inspiration Filling. Pinch the edges together.
Bake at 350°F for 10 minutes or until golden brown.