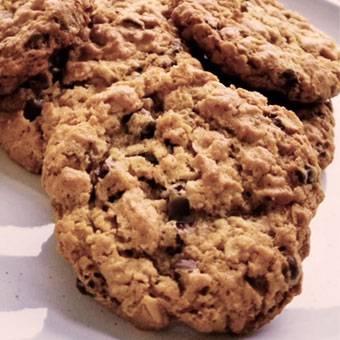 MONSTER COOKIES
An orginal recipe by Chef Daniel Keehner of Union Square Events.
Category: Cookies & Bars
Difficulty: Easy
Makes around 2 dozens cookies
65g butter (room temperature)
125g sugar
125g dark brown sugar
20g corn syrup
190g peanut butter (melted)
4g vanilla extract
2ea eggs
6g baking soda
260g oats
INSTRUCTIONS
Mix the butter and sugars until light and fluffy.

Slowly add in the eggs until incorporated.

Then add the corn syrup, peanut butter and vanilla extract.

Once full incorporated, add in baking soda, oats, Dark Chocolate Chips, and Dark Chocolate Crunchy Pearls 55%.

Form the dough into balls and place on a baking sheet lined with parchment paper or a silicone mat.

Bake at 350°F (176°C) for 12 to 15 minutes or until light golden brown on the edges.