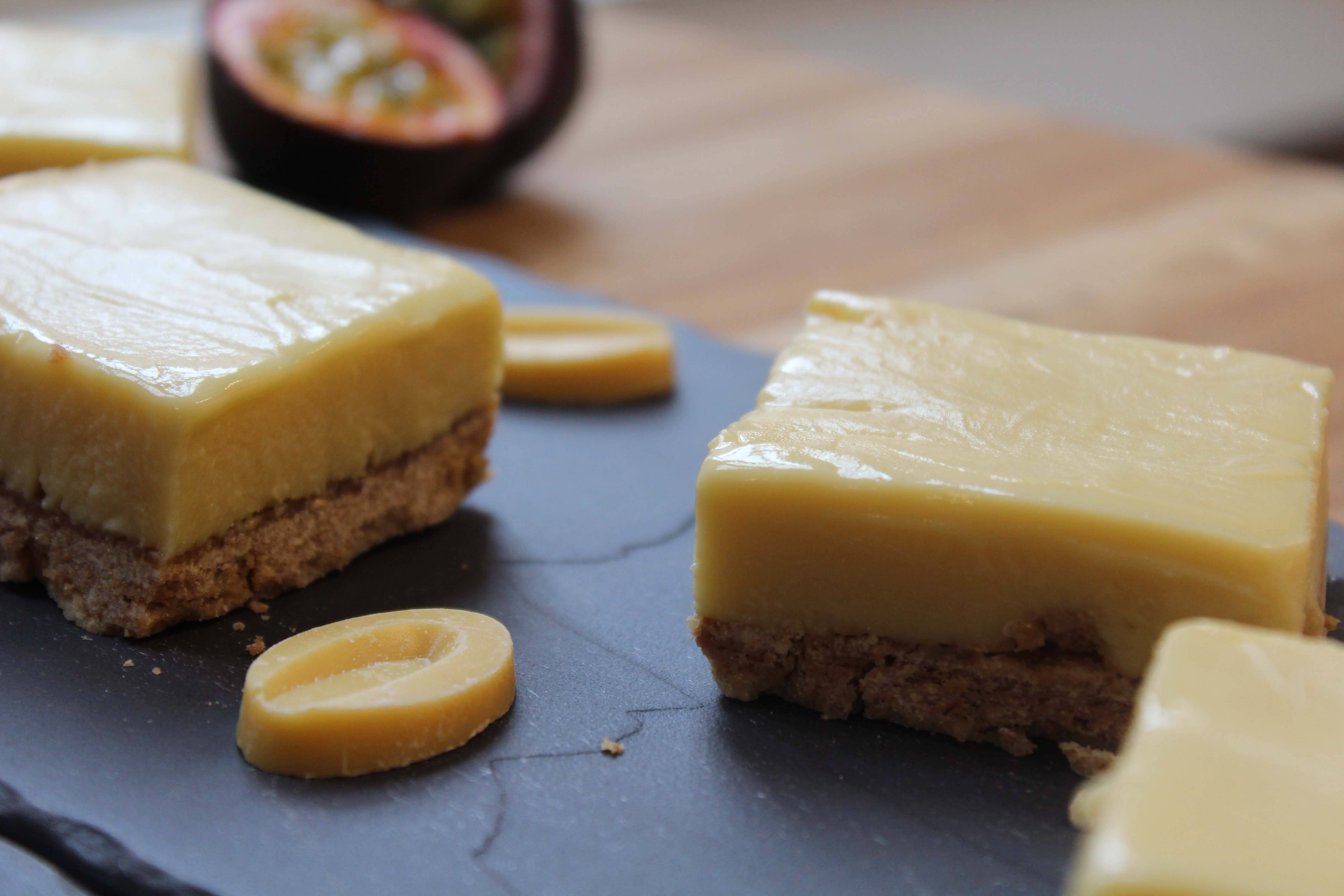 PASSION FRUIT BARS
Dairy Free
Category: Cookies & Bars
Difficulty: Medium
Crust
1 cup all-purpose flour

1/2 cup cold coconut oil
1/4 cup sugar
Passion Fruit Custard
3 cups Passion Fruit Inspiration
2 cups coconut milk
1/2 tsp vanilla extract
2 ea eggs
3 ea egg yolks
4 Tbsp sugar
4 Tbsp corn starch
Combine the flour, sugar, and very cold small pieces of coconut oil.
Mix with your hands until it's all combined.
Pour into a mound on plastic wrap. Cover and shape into a square.
Chill for 30 minutes.
Remove from fridge and work, kneading by hand until soft enough to roll but not too soft.
Roll out between two sheets of parchment to 1/4" thickness.
Bake in a 350°F (177°C) oven for 15-20 minutes until just turning brown. Let cool.
Passion Fruit Custard
Melt the Passion Fruit Inspiration in a plastic or glass bowl. Heat in the microwave at 20 second intervals, stirring each time and stopping when almost completely melted.
In a saucepan over medium heat, heat the coconut milk unil it reaches almost boiling.
In a seperate bowl, while the coconut milk heats, whisk together the eggs, egg yolks, sugar and corn starch.
When the coconut milk reaches a scald, pour a tiny bit over the egg ixture and whisk to combine. Gradually add more of the milk until 1/2 is in the bowl.
Pour the egg mixture into the saucepan and put back on the burner. Cook on low, stirring constantly with a spatula until it starts to thicken.
Pour 1/3 through a fine strainer over the Passion Fruit Inspiration. Stir to combine.
Add the next hird and stir, then the last part. Stir then finish with an immersion blender to emulsify.
Return to the pan and cook on low until it really starts to get thick.
ASSEMBLY AND FINISHING
Pour the Passion Fruit Curd on the cooled cooked crust.
Chill, cut, and serve.