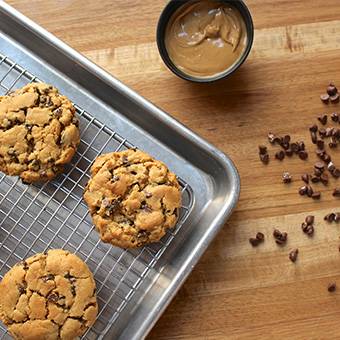 PEANUT BUTTER CHOCOLATE CHIP COOKIES
Category: Cookies & Bars
Difficulty: Easy
Makes around 2 dozens cookies
1 cup creamy peanut butter
3/4 cup sugar
1 ea egg
1/2 tsp baking soda
1/4 tsp salt
INSTRUCTIONS
Preheat oven to 350°F (175°C).

Mix together peanut butter, sugar, baking soda and salt in a medium bowl until smooth. Beat in egg. Stir in Milk Chocolate Chips.

Spoon heaping tablespoonfuls of dough 2 inches apart onto parchment paper-lined baking sheets.

Bake for 10 to 12 minutes or until lightly browned.

Let the cookies cool on the baking sheets until firm enough to handle, then use a spatula to transfer them to a wire rack for cooling.