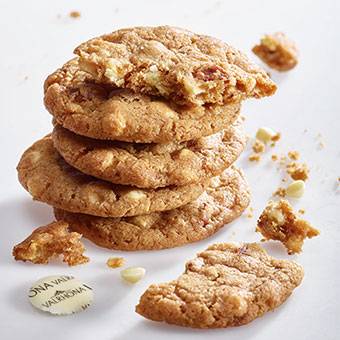 WHITE CHOCOLATE CHIP PECAN COOKIES
Recipe by Rémi Montagne, Valrhona Pastry Chef
Category: Cookies & Bars
Difficulty: Easy
Makes about 25 cookies
100g pecans
250g brown sugar
190g butter
45g eggs
250g all-purpose flour
5g baking soda
5g salt
INSTRUCTIONS
Toast the pecans for about 12 minutes at 300°F (150°C) then finely chop.
Combine the sugar and cold butter, and mix.
Once you have a homogeneous mixture, add the eggs, flour, salt, and baking soda.
Complete the mixture by adding the White Chocolate Chips and pecans while the mixer is on a slow speed.
Place the dough in plastic wrap and form into a cylinder. Chill.
ASSEMBLY & FINISHING
Remove the plastic wrap, and cut the cookie dough into slices.
Place the slices on a baking sheet lined with parchment paper.
To keep your cookies soft, bake them for about 4 minutes at 340°F (170°C). If you prefer crispier cookies, bake them for approximetly 10 minutes at 320°F (160°C).