PASSION FRUIT & COCONUT PANNA COTTA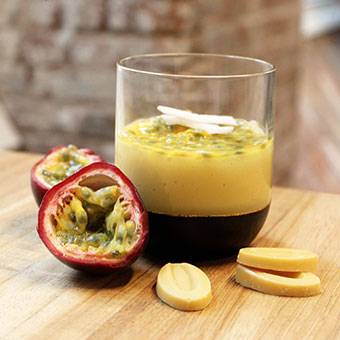 PASSION FRUIT & COCONUT PANNA COTTA
Gluten Free and Vegan recipe
Category: Crèmes and Mousses
Difficulty: Easy
INGREDIENTS
Calculated for 8-10 ramekins, depending on size.
1 cup
almond milk
2 cups coconut cream
1/4 cup sugar
As Needed passion fruit pulp (for garnish)
INSTRUCTIONS
Melt the Passion Fruit Inspiration and set aside.
Combine the almond milk and gelatin. Set aside.
Combine the coconut cream and sugar in a pan and bring to a boil.
Combine the almond milk mixture and the boiling coconut cream mixture.
Pour over the Passion Fruit Inspiration in several additions.
Whisk to combine. Then use an immersion blender to completly mix.
Strain through a fine mesh strainer and pour into small ramekins, jars, or cups.
Chill for 4 hours to set.
Garnish with passion fruit pulp to serve.