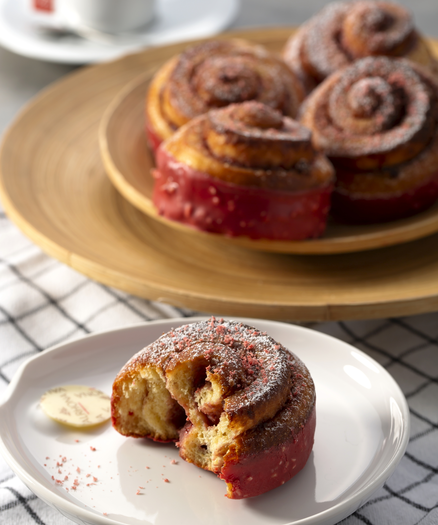 STRAWBERRY CHEESE ROLL
An original recipe from L'École Valrhona
Yield: Makes 35 rolls
Difficulty: Medium
ROLL DOUGH:
In a mixer bowl, combine all the ingredients together except the butter, then knead the dough for around 10 minutes on speed 2.
Finish by adding the butter inside, and knead until the dough does not stick to the bowl's side.
Allow the dough to rest at room temperature for 30 minutes and then let it rest overnight in the refrigerator.
CHEESE STRAWBERRY GARNISH:
Melt the Inspiration chocolate. Then mix it with the cream cheese, allow to cool down at room temperature until ganache texture is reached, and spread it on top of the dough.
STRAWBERRY CRUNCHY GLAZE:
Melt the chocolate at 104°F (40°C). Add the oil and the roasted chopped almonds.
ASSEMBLY:
Spread the roll dough to 2mm thick and spread the garnish inside, roll it like a snail.
Then cut the dough approx. 6cm height. Put inside a mold of 12cm of diameter.
Bake for 18 minutes at 356°F (180°C).
Put the baked roll 15 minutes in the freezer.
Deep it in the glaze at 95°F (35°C).
Finish with icing sugar, and sprinkle some Stawberry Inspiration Chocolate with a microplane.