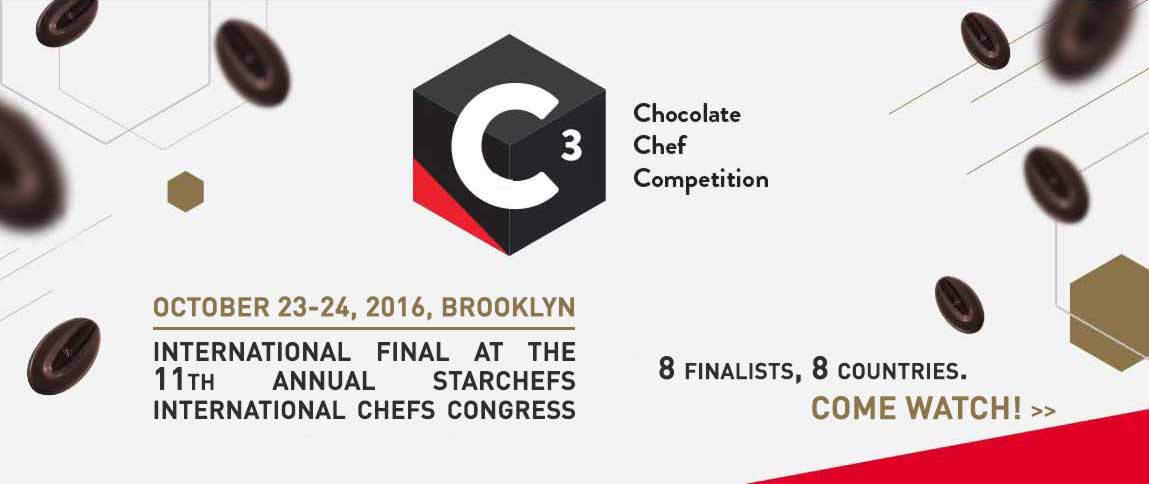 Valrhona is excited to host in partnership with StarChefs, the annual International C3 Pastry Competition this year right here in New York. Last year, Chef Nicolas Blouin of Rosewood Mansion in Dallas took home the grand prize, and we can't wait to see what he and all the other competitors from around the world will create this year.

The 2016 competition theme, "GUANAJA 70%" celebrates the 30th anniversary of our iconic chocolate. After training for months, pastry chefs will present an original plated dessert and petit four based on the theme.

We're excited to announce this year's eight international finalists: Yusuke Aoki from The Ritz Carlton Doha, Nicolas Blouin from Mansion on Turtle Creek in Dallas, Frederik Borgskog from Upper House/Gothia Towers in Sweden, Nicola Dobnik from Del Cambio in Italy, Andrea Dopico Cafarelli from Moments in Barcelona, Fabrizio Fiorani from BVLGARI Hotels & Resorts in Tokyo, Damien Gendron from Grand Hotel in France, and Benjamin Kunert from Atlantis by Giardino in Zurich.
Top chefs from around the world will act as judges for the Valrhona C3 Pastry Competition, selecting the winning pastry chef. Judges include Sergi Arola of La Broch, Arola in Madrid; Antonio Bachour of Bachor Bakery + Bistro in Miami; Enrico Cerea of Da Vittorio in Bergamo, Italy; Stéphane Chéramy of The Rtiz Carlton, Orlando; Johhny Iuzzini of Sugar Fueled INC in Brooklyn, New York; François Payard from New York; Jean-François Piège of Le Grand Restaurant in Paris; and Sébastien Serveau from Paris.