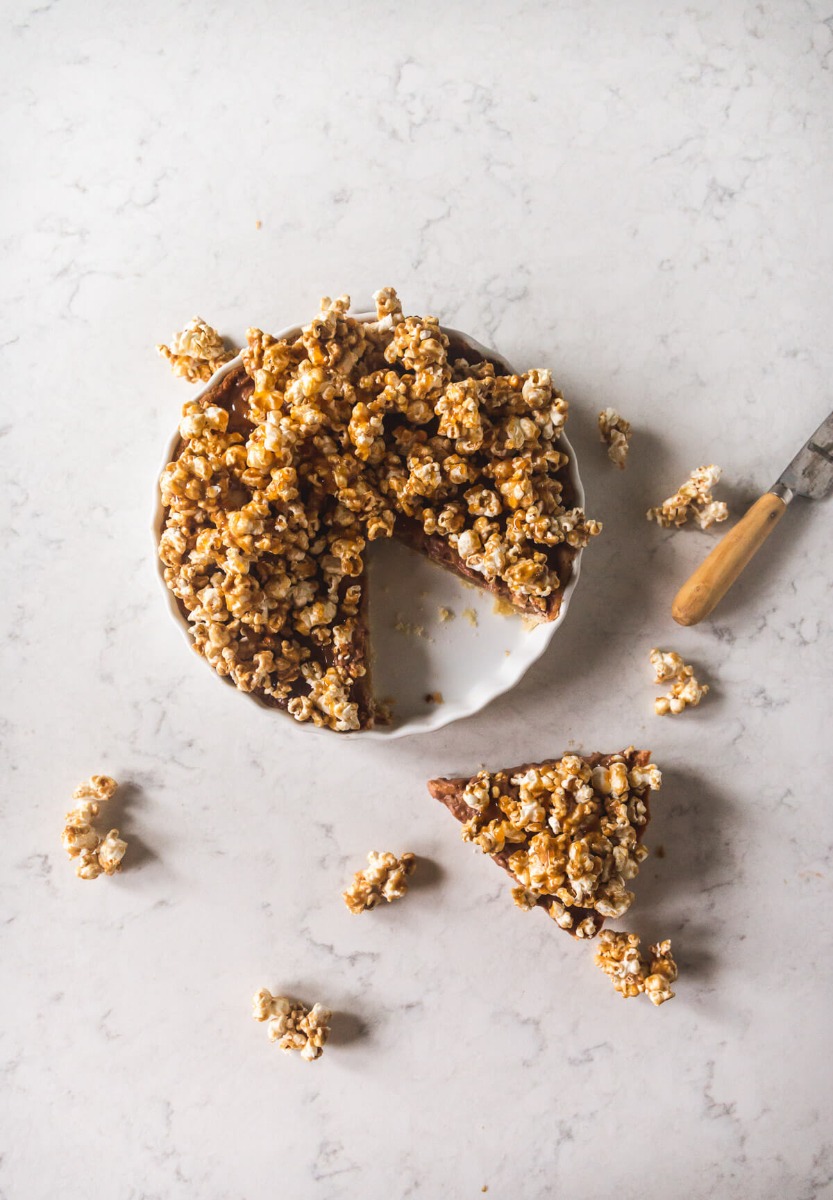 CARAMÉLIA APPLE AND CARAMEL CORN TART
An original recipe by Karlee Flores
Category: Cakes and Tarts
Makes 9 inch tart
Difficulty: Easy
Cook time: 1 hour 30 minutes
Total time: 4 hours
INGREDIENTS
Caramel Corn:
6 cups popped popcorn
1/4 cup butter
1/2 cup light brown sugar, packed
2 Tbsp light or dark corn syrup
1 tsp salt
1/8 tsp baking soda
1/4 tsp vanilla extract

Crust:
1 1/4 cups all-purpose flour
1/2 cup powdered sugar
1/4 tsp salt
1/2 cup unsalted butter, chilled and cubed
1 egg

Filling:
1 Tbsp vegetable oil
14 oz apples
1 cup apple butter
4 oz Caramélia 36%

Caramel Corn:
Preheat oven to 300° Fahrenheit. Line a rimmed baking sheet or roasting pan with aluminum foil, and grease with cooking spray. Place in the popcorn.

Melt butter in a large saucepan over medium/high heat. Add brown sugar and corn syrup, stir to combine. Bring to a rolling boil, then reduce the heat to low and let simmer without stirring for 5 minutes. Stir, then continue to cook for an additional 4 to 6 minutes, stirring every 30 seconds, until the mixture is a deep golden color. Turn off the heat and slowly whisk in salt, baking soda and vanilla. The mixture will bubble. Pour over the popcorn and toss until it is evenly coated.

Bake for 15 to 20 minutes, stirring to toss every 5 minutes, until the caramel corn has turned a deep amber color. Remove the caramel corn from the oven and transfer to a surface covered with parchment or wax paper to cool.
Crust:
In a food processor, pulse the flour, powdered sugar, salt, and butter until the butter is incorporated into the flour and looks mealy. Add in the egg and pulse about 15-17 times.

Turn out into a clean surface and gather the shaggy dough together into a ball. Form into a 4-inch disk, wrap in plastic wrap, and place in the fridge to chill for at least 1 hour.
Filling:
Skin and cube 14 ounces of apples (about two large apples). The cubes should be slightly smaller than a die. In a medium saucepan over medium/high heat, add in the vegetable oil and diced apples. Cook down, stirring constantly for about 5 minutes, or until the apples have shrunk and softened.

Add in the apple butter and continue to cook for another 5 minutes until most of the water has steamed off.

Remove from the heat and fold in the Caramélia 36%. Set aside.
Assembly
Preheat the oven to 375 degrees.

Roll out the dough and form into a 9-inch tart pan, cutting off the excess. Chill in the fridge for 15 minutes. Score the bottom of the chilled tart a few times with a fork. Line the tart shell with parchment paper and fill with pie weights or dried beans to the top of the crust.

Bake in the preheated oven for 15 minutes, remove the weights and place back into the oven to cook for another 10-15 minutes, or until golden brown.

Pour the Caramélia apple mixture over the tart and smooth evenly across.

Once the tart has cooled about 30 minutes at room temperature cover with plastic wrap and place in the fridge to set about 2 hours. Before serving, top with caramel corn.