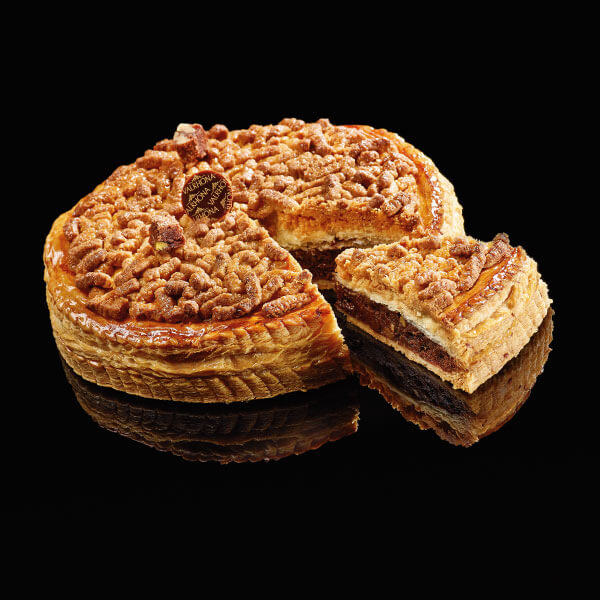 BROWNIE KING CAKE
An original recipe by David Briand, L'École Valrhona Pastry Chef
Category: Cakes and Tarts
Difficulty: Medium
INGREDIENTS
Calculated to make a 21 cm diameter King Cake (for 6 people)
Brownie Batter
20 g almonds
20 g pistachios
20 g pecans
65 g raw cane sugar
45 g eggs
60 g butter
35 g Caraïbe 66% Dark Chocolate
30 g all-purpose flour
60 g Dark Chocolate Chips 52%
Almond Streusel
25 g cane sugar
25 g all-purpose flour
25 g almond
25 g butter

Assembly and Finishing
2 ea puff pastry sheets

INSTRUCTIONS
Brownie Batter

Roughly chop and toast the almonds, pistachios and pecans in the oven at 320°F (160°C).
Mix the raw cane sugar with the eggs.
Melt the butter and Caraïbe 66% Dark Chocolate. Add the chocolate mixture to the sugar and eggs.
Add the flour, the nuts and the Dark Chocolate Chips 60%. Stir together with a spatula.
Almond Streusel

Sift all the dry ingredients together.
Add the cold cubed butter and mix using an immersion blender until combined.
Press the cold paste through a wire cooling rack to get regular-sized streusel pieces.
ASSEMBLY & FINISHING
Place one of the sheets of puff pastry in a tart mold. Garnish with the brownie batter and hide the traditional King Cake figurine (fève).
Cover with the second sheet of puff pastry. Add the raw streusel pieces on top.
Bake in the oven at 356°F (180°C) for around 45 minutes.