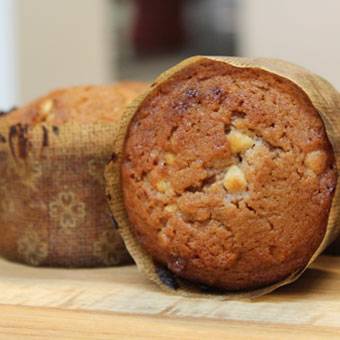 CARAMÉLIA & WHITE CHOCOLATE CHIP MUFFINS
Category: Cakes & Tarts
Difficulty: Easy
Makes about 12 muffins
1/2 cup (115g) butter
3/4 cup (115g) sugar
2 ea large eggs (room temperature)
1 tsp vanilla extract
1/3 cup (80g) sour cream or plain yogurt (room temperature)
3/4 cup (92g) all-purpose flour
1/2 tsp baking soda
1/4 tsp salt
INSTRUCTIONS
Preheat oven to 425°F (218°C). Spray a 12-count muffin pan with nonstick spray or line with cupcake liners. Set aside.

Place Caramélia 36% Milk Chocolate in a medium heat-proof bowl along with the butter. Microwave on high in 20 second increments, whisking after each until completely smooth.

Whisk in the sugar, eggs, vanilla, and sour cream or yogurt. Set aside.

Whisk the flour, baking soda, and salt together in a large bowl.

Add the wet ingredients and fold to completely combine - make sure there are no flour spots at the bottom of the bowl.

Fold in the White Chocolate Chips. The batter will be thick.

Spoon the batter evenly into each cup or liner.

Bake the muffins for 5 minutes at 425°F (218°C) then, keeping the muffins in the oven, reduce the oven temperature to 350°F (177°C). Bake for an additional 15-17 minutes or until a toothpick inserted in the center comes out clean. The total baketime is about 18-22 minutes.

Allow the muffins to cool for 5 minutes in the muffin pan, then transfer to a wire rack to continue cooling.