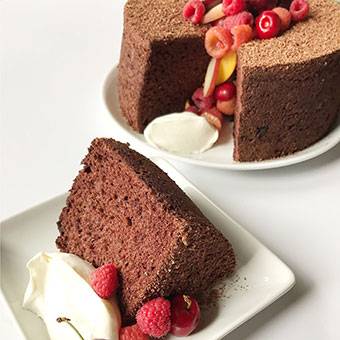 CHOCOLATE ANGEL FOOD CAKE
An original recipe by Sarah Tibbetts, Valrhona Pastry Chef
Category: Cakes and Tarts
Difficulty: Easy
Dairy Free
INSTRUCTIONS
Batter

Combine ½ cup sugar, flour, Cocoa Powder, baking soda and salt. Sift and set aside.
In the bowl of a stand mixer fitted with the whisk attachment, whip the egg whites with the lemon juice and vanilla extract on medium speed.
When the whites are at very soft peaks, add the remaining 1 cup sugar slowly in several additions, while continuing to whip the whites.
When the meringue is at firm peaks but not dry (like thick shaving cream), remove from the mixer and fold in the dry mixture slowly by hand using a spatula.
Mix just until incorporated to retain the maximum amount of air.
ASSEMBLY & FINISHING
Immediately and gently spoon the batter into an ungreased pan.*
Smooth the top lightly and bake at 350ºF (177ºC) for 30 to 35 minutes or until the cake springs back when lightly pressed.
Remove from the oven and immediately invert.
Cool completely.
Before serving, use a microplane to grate dark chocolate over the entire cake.
*Chef's note: The ungreased pan is important for proper baking of the cake, as the batter needs to stick to the sides of the pan. Once cool, run a knife around the edges to loosen the cake. A traditional angel food cake pan with a removable bottom works best.