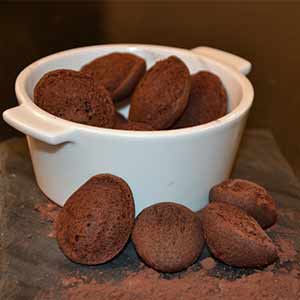 CHOCOLATE MADELEINES
Category: Cakes and Tarts
Difficulty: Easy
Prep Time: 20 min
Cook Time: 4 - 5 min
Total Time: 25 min
INGREDIENTS
Calculated for 60 mini madeleines
INSTRUCTIONS
Sift the flour, Valrhona Cocoa Powder and baking powder together.
Combine the butter and Illanka 63% couverture and melt in a microwave.
Mix the eggs and sugar with a spatula until all of the sugar is fully incorporated.
Add the flour mixture into the egg batter. Mix until there are no dry spots. Do not over mix. Then add the butter mixture.
Refrigerate overnight before baking.
Assembly & Finishing:

Butter the madeleine pan and then sprinkle some flour on top. Tap the pans upside down to get rid of any excess flour. Pipe the batter into the pan.
Bake at 350°F (177°C) for 4-5 minutes.
Cool and Serve.