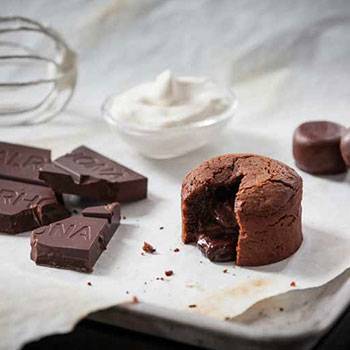 CHOCOLATE MOLTEN LAVA CAKE
Category: Cakes and Tarts
Difficulty: Moderate
Prep Time: 15 min
Cook Time: 15 min
Total Time: 30 min
INSTRUCTIONS
Melt the Guanaja 70% Baking Bar and the butter in the microwave (see our "How to temper chocolate" tips).
Blend together the whole eggs and the sugar for 3 minutes, taking care not to over beat the eggs.
Carefully stir the egg mixture in the chocolate and butter using a spatula, then add the sifted flour.
Line 2 inch round metal molds with parchment paper (Or use non stick spray and dust with flour).
Fill the molds halfway up with chocolate mixture, then place a Guanaja Etnao Insert in the middle of the batter and cover with more of the chocolate cake batter.
Bake for 15 minutes at 375°F (190ºC). Unmold carefully and serve immediately.