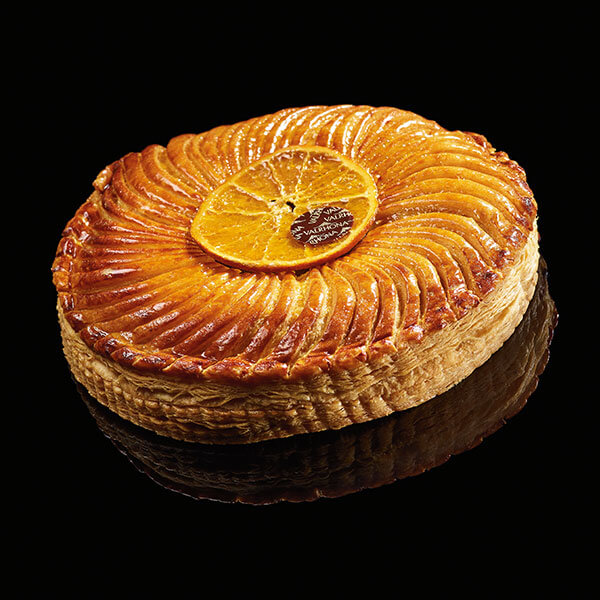 CHOCOLATE ORANGE KING CAKE
An original recipe by David Briand, L'École Valrhona Pastry Chef
Category: Cakes and Tarts
Difficulty: Medium
INGREDIENTS
Calculated to make a 21cm diameter King Cake (for 6 people)
Orange Marmelade
54 g oranges
4 g butter
40 g raw cane sugar
13.5 g sugar
6.5 g honey
16.5 g orange juice
1.4 g corn starch
Chocolate Almond Cream
104 g
almond paste

51.5 g
eggs
14 g
almond flour

51.5 g
butter

4 g
corn starch
Dried Orange Disks
57 g oranges
3 g confectioner's sugar
Assembly and Finishing
2 ea puff pastry sheets

INSTRUCTIONS
Orange Marmelade

Clean the oranges. Boil the oranges in a large amount of water to reduce their bitterness.
Cut the oranges in large chunks and sauté with the butter and cane sugar in a pan. On a low heat, let them caramelize, add the sugar, honey and orange juice. Let it reduce until almost completely evaporated.
Add more orange juice and let reduce. Add the corn starch combined with a little bit of water. Heat to a boil for several minutes, stirring quickly. Mix using an immersion blender to create a very thin compote. Let set in the refrigerator.
Chocolate Almond Cream

Add the eggs one by one to the almond paste. Add the almond flour and the softened butter.
Softly whip the mixture and add the corn starch. Add the melted CARAÏBE 66% Dark Chocolate. Finish by adding the cream.
Store in the refrigerator or use immediately.
Dried Orange Disks

Cut the orange into disks as thinly as possible. Sprinkle lightly with confectioner's sugar and let dry in the oven at 176°F (80°C) for 4 hours.
ASSEMBLY & FINISHING
Place one of the puff pastry sheets in a tart mold. Add the Orange Marmalade in the middle and then add the Chocolate Almond Cream. Hide the traditional King Cake figurine.
Cut a 60cm circle at the center of the second sheet of puff pastry, then cover the cake with it.
Bake in the oven at 356°F (180°C) for 40 minutes. Place the Orange Disks on the center of the cake.