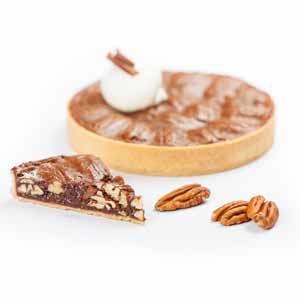 CHOCOLATE PECAN TART
Category: Cakes and Tarts
Difficulty: Easy
Prep Time: 20 min
Cook Time: 35 min
Total Time: 55 min
INGREDIENTS
Calculated for (1) 26cm (10.25 inch) Tart Pan
Tart Dough
120 grams (4.2 ounces) unsalted butter, softened
2 grams (¼ tbsp) salt
90 grams (3.2 ounces) confectioners' sugar
30 grams (1 ounces) almond flour
1 ea large egg
235 grams (8.3 ounces) flour

Filling
30 grams (1 large egg) egg yolks
25 grams (0.9 ounce) sugar
25 grams (0.9 ounce) maple sugar
55 grams (2 ounces) maple syrup, grade B
55 grams (2 ounces) corn syrup
30 grams (1 ounce) salter butter, melted
80 grams (2.8 ounces) pecan halves
35 grams (1.2 ounce) Caraïbe 66% Baking Chocolate
Tart Dough:
In the bowl of a stand mixer fitted with the paddle attachment, combine the butter, salt, confectioners' sugar, almond flour and eggs.
Once combined, add the flour in 3 additions, scraping down the sides of the bowl after each addition is incorporated.
Mix until the dough just comes together.
Remove from the bowl and roll out between two sheets of parchment paper to a thickness of 2mm (0.08 in).
Chill until ready to use.
Filling:
Combine the sugars and syrups and then add the egg yolks.
Add the melted butter and mix until smooth. Melt the chocolate to 105°F (40°C) in the microwave or in a double boiler.
Add the sugar/egg mixture to the chocolate, mixing well.
Toast the pecans in the oven at 300°F (150 C) for approximately 10 minutes, until the pecans have a nice brown and toasty color.
Assembly & Finishing:
Grease tart shells and line with tart dough.
Place in the freezer for 20 minutes, then bake at 325°F (163°C) for 8-10 minutes, or until light golden brown.
Cool slightly before filling. Warm the filling slightly if needed to easily pour into the shells. Line the bottom of the baked tart shells with 20g of toasted pecans.
Pour 60g of filling over the top. Top with 20g more of pecans, fanning out in a decorative design. Finish with 60g of filling and let settle to eliminate air bubbles.
Bake at 315°F (157°C) for 12-15 minutes, or until edges begin puff up and the center is set.
Cool for 1 hour before serving.
Store a room temperature or refrigerate.
Best enjoyed within 2 days.