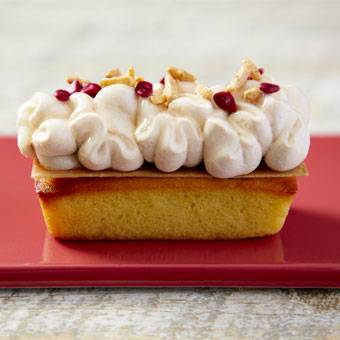 DAINTY CAKES
An original recipe by Sarah Tibbetts, Valrhona Pastry Chef
Category: Cakes & Tarts
Difficulty: Medium
Makes about 10 mini cakes
Almond Cake
1 1/2 cup (125g) almond flour

1 cup (125g) confectioner's sugar
2 ea (125g) extra large eggs

1 tsp (8g) honey

1/4 cup +1 1/2 tsp (40g) all-purpose flour
3/4 cup (125g) butter (melted)
Almond Whipped Ganache
Ganache:
1/2 cup (115g) cream
heaping tablespoon (25g) honey
Whipped Ganache:
1 cup (225g) Ganache
1 cup (225g) cream
Garnish
1/2 cup (150g) raspberry jam
As Needed raspberries (for garnish)
As Needed caramelized almonds (for garnish)
Combine the first four ingredients in the bowl of a stand mixer and blend with the paddle attachment.
Add the flour, then the melted butter.
Place in a pastry bag and chill until ready to use.
Almond Whipped Ganache
Melt the Almond Inspiration in a heat proof bowl in the microwave in 20 seconds increments, stirring between each.
Combine the smaller amount of cream with the honey in a pot.
Bring to just under a boil and then slowly pour over the melted Almond Inspiration, to create an emulsion.
Blend with an immersion blender to completely emulsify.
Rescale to 225g, and add the cold cream. Blend with an immersion blender again.
Pour into a shallow container and allow to crystalize in the refrigerator for several hours.
When ready to use, whip the Almond Inspiration Ganache with a mixer to medium stiffness.
ASSEMBLY AND FINISHING
Pipe the cake batter into small loaf molds and bake at 375°F (190°C) until golden brown (about 15 minutes).
Cool and unmold. Trim the top to create a flat surface.
Spread raspberry jam on top of the cake.
Whip the Almond Whipped Ganache to medium stiffness and pipe on the top in a zig-zag motion to cover the jam completely.
Garnish with raspberries and caramelized almonds.
Note: If ganache breaks bring 2 tablespoons honey to a boil (20 seconds in a microwave). Slowly whisk in honey as needed until the ganache is smooth and shiny again.