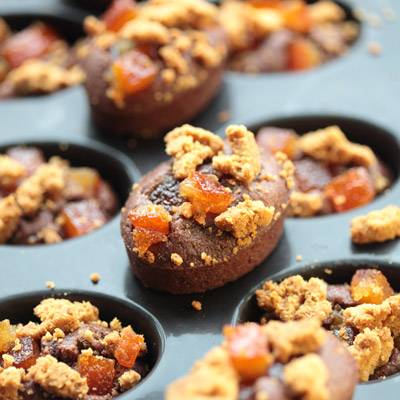 DARK CHOCOLATE FINANCIERS, CITRUS STREUSEL, AND CANDIED ORANGES
Category: Cakes and Tarts
Difficulty: Moderate
Prep Time: 30 min
Cook Time: 25 min
Total Time: 55 min
INGREDIENTS
Dark Chocolate Financiers:

2 cups
ground almonds
1 ¼ cups
sugar
1 ¾ tablespoon
Valrhona Cocoa Powder

9 ea
egg whites
5 tbsp
heavy cream
1.76 ounces
GUANAJA 70% BAKING BAR
Citrus Almond Streusel:
3 ½ tbsp raw cane sugar
½ cup ground almonds
⅓ cup flour
1 tbsp butter
½ orange zest
½ lemon zest
Financier filling:
8.47ounces candied orange peel
INSTRUCTIONS
Dark Chocolate Financier:
In a mixing bowl, combine the ground almonds, sugar, cornstarch, and Valrhona Cocoa Powder.
Stir in the egg whites and cream. Set aside.
Chop the Valrhona Baking Dark Chocolate and melt it slowly in a bain-marie or in a microwave in 30 seconds intervals until melted (see our "How to temper" tips)
Pour a bit of the sponge batter into the melted hot chocolate, vigorously whisking the mixture. Then carefully fold in the remaining financier batter.
Set aside in the refrigerator for 2 to 3 hours.

Citrus Streusel:
In a mixing bowl, combine the brown sugar, ground almonds, flour, and the finely chopped lemon and orange zest.
Cut the cold butter into small cubes and put in the mixing bowl.
Knead the ingredients through your fingers until the dough becomes crumbly and lumpy.
Spread out the streusel on a tray lined with parchment paper or a silicon mat.
Bake at 300-320°F (148-160ºC) (th. 5/6) for about 10 minutes until a nice golden brown color is achieved.
Assembly & Finishing:
Garnish the molds with the financier batter and sprinkle with candied orange peel cubes and baked streusel.
Bake at 350°F (176ºC) for about 15 to 20 minutes.Allow to cool before removing from the molds.
*Pastry Chef's Tip: In order to keep the streusel and orange peel stable on the surface, first bake the financier cakes plain for 4 minutes and then sprinkle the streusel and orange peel on top.
Finish baking for another 10 minutes.
Good to know:
Silicon molds don't usually need to be buttered; however, if the cakes get stuck in the molds, allow the molds to cool, and then remove them. Or set them aside in the freezer until they harden.