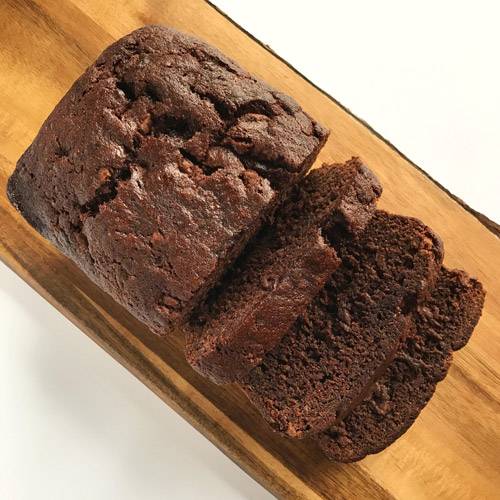 DOUBLE CHOCOLATE BANANA BREAD
Category: Cakes and Tarts
Difficulty: Easy
INGREDIENTS
Calculated for one 5x9" loaf pan
Batter:
½ cup butter, room temperature (plus additional for pan)
1 ½ cups flour (plus additional for pan)
1 tsp baking soda
½ tsp salt
2 tbsp malted milk powder
¼ cup Cocoa Powder
1 ¼ cups sugar
2 each large eggs, room temperature
1 ½ cups ripe bananas, (mashed)
2 tbsp full fat greek yogurt
1 tsp vanilla extract
1 ¼ cups Jivara 40% Milk Chocolate, chopped
INSTRUCTIONS
Batter:

In the bowl of a stand mixer fitted with the paddle attachment, combine the butter and sugar and beat them on medium speed until the mixture is light and fluffy.
Add the eggs, one at a time, beating well after each addition. Add the mashed bananas, followed by the yogurt and vanilla extract.
Combine all the dry ingredients and add to the mix in two parts. Add the chopped chocolate last.
Pour the batter into a buttered and floured 5x9" and bake at 177ºF (350ºC) for 80 to 90 minutes. Cool completely before slicing.
*Chef's note: Chop the chocolate into large chunks to bring about a greater flavor of chocolate or for smaller pieces, substitute with Valrhona Chocolate Chips.
Insert a skewer in between the batter before setting in the oven to help you ckeck if the batter is baked. It should come out clean when you think the batter is done.