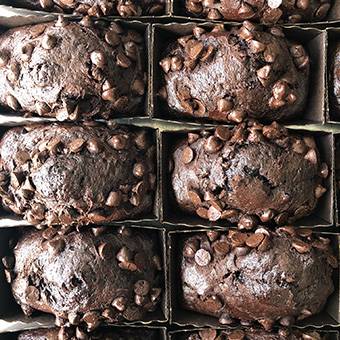 DOUBLE CHOCOLATE CHIP LOAF
Gluten Free & Dairy Free
An orginal recipe by Sous Chef Ann Lam of Union Square Events
Category: Cakes & Tarts
Difficulty: Easy
105g sugar
40g "Cup 4 Cup" gluten free flour (or all-purpose flour)
4g vanilla extract
20g olive oil
60g soy milk
150g (about 3 ea) eggs
As Needed confectioner's sugar (for topping)
INSTRUCTIONS
Place the first four ingredients in a large mixing bowl and mix until just combined.

In a seperate bowl, combine all of the wet ingredients and add slowly to the mixer in three additions.

Add in the DARK CHOCOLATE CHIPS.

Fill small loaf containers with batter, and top with DARK CHOCOLATE CHIPS.

Bake at 325°F (163°C) until a toothpick inserted in the middle comes out clean.

Once at room temperature, dust lightly with confectioner's sugar.
TIP
For best results, bake it a day ahead!