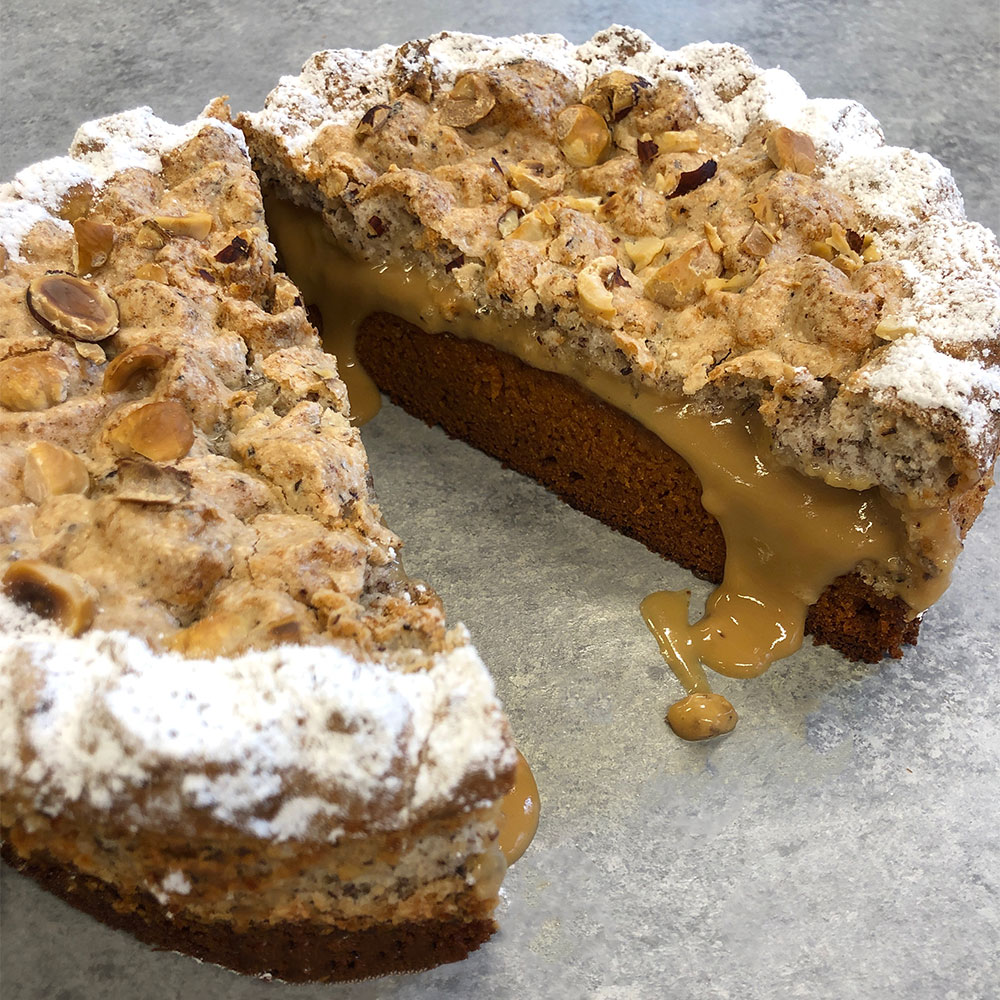 DULCEY HAZELNUT BROWN BUTTER CARAMEL TRAVEL CAKE
An original recipe by L'École Valrhona North America Pastry Chef Guillaume Roesz
Category: Cakes
Difficulty: High
INGREDIENTS
Caramel Cake
120g sugar
80g cream
20g unsalted butter
50g egg
50g all-purpose flour (can substitute gluten-free flour)
1g baking powder
1 pinch Fleur de Sel
Dulcey 32% Ganache
95g water
5g corn flour
95g Dulcey 32% Blond Chocolate

Hazelnut Dacquoise
15g all-purpose flour (can substitute gluten-free flour)
80g hazelnut flour
25g confectioners' sugar
110g egg whites
50g sugar
10g crushed hazelnuts

INSTRUCTIONS
CARAMEL CAKE:
To make the brown butter, heat the butter in a saucepan over medium heat until it turns golden-brown and develops a nutty aroma. Be careful as it can burn quickly. Filter the brown butter through a sieve. You will end up with about 15 grams of brown butter.
To make the caramel, warm the cream and the brown butter in a pot. In another pot, make a dry caramel with the sugar. Deglaze the caramel with the warm cream and butter mixture. Let the caramel cool to about 95°F (35°C).
Beat the egg in a medium bowl. Add the cooled caramel and whisk until smooth. Sift in the flour and baking powder with the Fleur de Sel. Mix until just combined. Pour the batter into a container, cover with plastic wrap, and let it rest in the fridge overnight.
Dulcey 32% ganache:
Partially melt the Dulcey 32%over a bain-marie. In another saucepan, mix the water and the corn flour and bring to boil. Pour a third of the hot water mixture over the partially melted Dulcey 32%.
Make an emulsion using a spatula to avoid forming air bubbles. You're looking for a smooth, shiny and elastic texture. Add the remainder of the hot liquid in two or three additions. Immediately pour the Dulcey 32% ganache into a 14 cm ring covered with plastic wrap. A silicon mold works too.
Let crystallize in the fridge for at least 4 hours, and then freeze.
BAKE THE CARAMEL CAKE:
Pour the Caramel Cake mixture in a 16 cm ring covered with aluminum foil. Bake at 302°F (150°C) for 15 minutes.* Allow the cake to cool.
HAZELNUT DACQUOISE:
Mix the flour, hazelnut flour and confectioners' sugar in a bowl. Whip the egg whites and add the sugar in few additions to until you get soft peaks. Carefully, add the dry ingredients into the whipped egg whites.
*Chef's note: *Note that bake time and temperature may vary, depending on your oven.