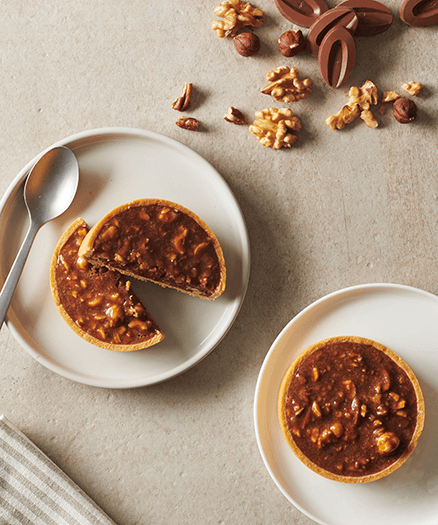 JIVARA CARAMEL NUT TARTLETS
An original recipe by Chef Guillaume Roesz
Category: Cakes and Tarts
Makes 12 Tartlets diam 7.5cm
Difficulty: Medium
INGREDIENTS
Almond Shortcrust
250g all-purpose flour
95g confectioners' sugar
30g almond flour
2g salt
125g European style butter
50g eggs
Caramel with Nuts
150g sugar
300g heavy cream
60g European style butter
170g Jivara 40% milk chocolate
40g walnuts
40g pecans
40g hazelnuts
40g pistachios
40g peanuts

*Chef's note: *You can use any nuts you want.

INSTRUCTIONS
Almond Shortcrust
Mix the powdered ingredients with the cold, cubed butter.
As soon as the mixture is completely smooth, add the cold eggs.
As soon as you obtain an even dough, stop mixing.
Store in the refrigerator or spread out immediately.
Bake at 300°F (150°C).
Caramel with Nuts
Make a dry caramel with the sugar. Once reached the desired caramel color deglaze with the hot cream.
Add the butter in the caramel and then let it cool down to 158-167°F (70-75°C).
Gradually pour the hot liquid over the Jivara 40% milk chocolatestirring in the center with a rubber spatula in order to get a smooth, shiny and elastic texture, sign of a well started emulsion. Keep the texture to the end of mixing.
Add the roasted nuts.