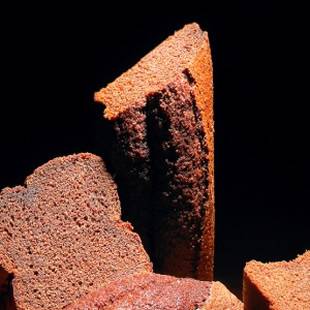 *
LE CAKE
Category: Cakes and Tarts
Difficulty: Easy
Prep Time: 10 min
Cook Time: 45 min
Total Time: 55 min
INGREDIENTS
3 eggs
2 ½ tbsp honey
6 tbsp sugar
3 ½ tbsp ground almonds
3 ounces whipping cream
⅔ cup flour
1 tsp baking powder
2 tbsp Valrhona Cocoa Powder
3 ½ tbsp melted butter
½ ounce rum
1 ounce Guanaja 70%

An 8 inch round cake pan
INSTRUCTIONS
Combine eggs with the honey and sugar.
Sift the flour, Valrhona Cocoa Powder and baking powder and add to the eggs.
Add the whipping cream and melted butter.
Add the rum and finish with the melted Guanaja 70%.
Assembly:
Pour into greased cake pan and bake at 325 F for about 45 minutes.
*Chef's tips: Serve with a mug of hot chocolate or coffee topped with a spoon of whipped cream.