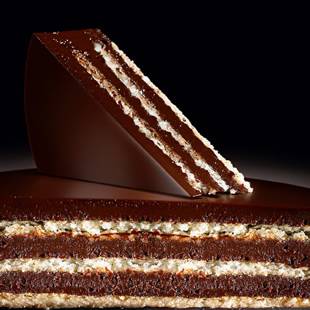 LE SUCCÉS
Category: Cakes and Tarts
Difficulty: Moderate
Prep Time: 20 min
Cook Time: 15 min
Total Time: 35 min
INGREDIENTS
Biscuit:

0.75 oz (¼ cup)
flour
2 oz (⅓ cup)
ground hazelnuts
3 oz (6 Tbsp)
sugar
3
egg whites
6 ⅓ oz whipping cream
1.1 oz (1 ½ tbsp) acacia honey
Sift the flour with the ground hazelnuts and 4 Tbsp of sugar. Beat the egg whites until stiff, adding the rest of sugar quickly in order to obtain a perfectly smooth texture.
Finish by folding the sifted dry ingredients into the egg whites with a spatula. Spread onto a baking sheet.
Bake at 375°F (190ºC) until it springs back when lightly touched.

Dark Chocolate Ganache:
Boil the cream and the honey. Pour ⅓ of the cream over the Valrhona Chocolate. Mix rapidly with a spatula to create a smooth and glossy emulsion.
Gradually keep adding the cream to the Valrhona Chocolate while mixing. (Put a damp towel under the bowl to keep in place). Maintain the smooth and glossy texture until all cream is incorporated.

Assembly:
Pour ⅓ of the ganache into a ring mold or cake pan.
Top with a circle of the biscuit. Pour an additional 1/3 of ganache over the top and place another biscuit circle on top.
Cover with the remaining ganache and finish with the last biscuit circle. Freeze over night, unmold and turn over so the ganache layer is on top.
If you have used a cake pan instead of a ring, you will need to slightly warm the bottom to remove it, then turn it over. Decorate with additional ganache. Leave to defrost for a minimum of 6 hours in the refrigerator.
Enjoy at room temperature.
Serving Suggestion:
Best enjoyed topped with whipped cream and with coffee or tea.