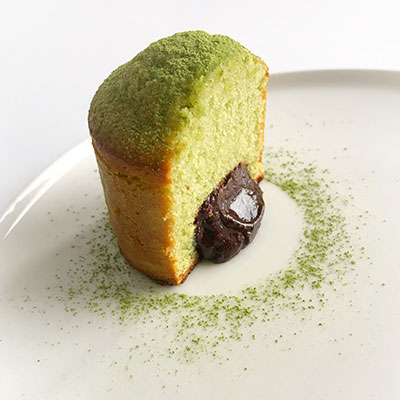 MATCHA LAVA CAKE
Category: Cakes and Tarts
Difficulty: Easy
Cook Time: 15-17 min
INGREDIENTS
Makes 6-8 portions (2.5" rings or ramekins)
Matcha Lava Cake
½ cup (115 g) sugar
3.5 Tbsp (90 g) agave
½ cup + 2 Tbsp (135 g) whole milk
3 ea (135 g) large eggs
1 cup (120 g) cake flour
1.5 cups (145 g) almond flour (or unsweetened fine shredded coconut)
1 tsp (4.8 g) baking powder
2.8 oz (80 g) Valrhona White Chocolate (Ivoire 35%)
2 Tbsp (30 g) unsalted butter (softened)
1 tsp (15 g) matcha powder
6-8 ea Etnao Chocolate Inserts
Whisk together the sugar, agave, milk and eggs.
Sift the cake flour, baking powder and matcha powder, then add to almond flour (or coconut).
Add the dry mixture into the wet mixture and mix with a spatula until smooth.
Melt the white chocolate in the microwave (20 second intervals) just until melted. Add the softened butter and mix.
Fold in the chocolate mixture into the batter. Chill the batter for at least 4 hours before baking.
Butter the metal rings and line with parchment strips (or buttered ramekins) and place on a baking tray lined with parchment paper.
Pipe the batter into the rings, about 4 Tbsp., then place an Etnao in the center (do not press down). Pipe a small amount of batter on the top to cover, about 1 Tbsp. Repeat until all the rings or ramekins are full.
Bake at 400°F for 15-17 minutes. The cakes should be golden on the edges and just barely cooked on top (center only).
Remove from the oven and carefully remove the rings, then the parchment. Dust with matcha powder and serve immediately.