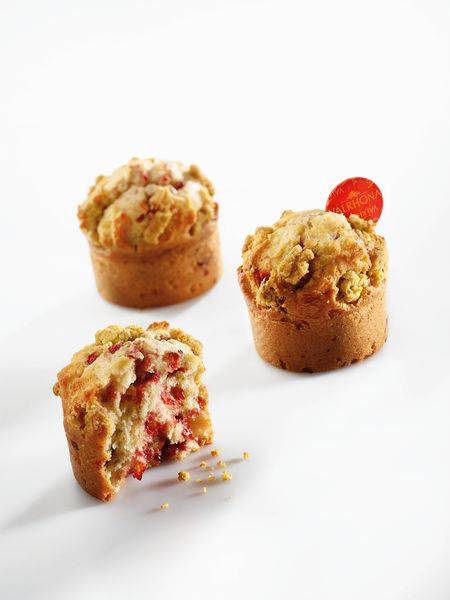 STRAWBERRY PISTACHIO MUFFINS
Recipe by Jérémy Aspa, L'École Valrhona Pastry Chef.
Category: Cakes and Tarts.
Serving: 20 muffins
Difficulty: Easy
INGREDIENTS
Strawberry Inspiration Muffins:
180g whole milk
190g eggs
140g sugar
35g honey
4.5g salt
330g all-purpose flour
20g baking powder
35g cornstarch
200g neutral oil
Pistachio Streusel:
65g raw pistachios
65g sugar
65g all-purpose flour
65g butter
INSTRUCTIONS
Strawberry Inspiration Muffins:

Mix the milk with the eggs, sugar, honey and salt.
Sift the flour with the baking powder and starch, then incorporate the egg and sugar mixture.
Finish off by adding the oil.
Once you have made the dough, incorporate the chopped Strawberry Inspiration, then mix.
Pistachio Streusel:
Grind the pistachios into a powder.
Use a stand mixer to combine the dry ingredients with the cubed cold butter.
Crumble the cold pastry into small granules.
Store in the refrigerator or freezer until you are ready to bake.
Bake at 300-320°F (150-160°C) with the oven door slightly ajar.
Assembly & Finishing
Make the Pistachio Streusel and Muffin mixtures.
Pipe or pour about 70g of the Muffing batter into your muffin molds.
Add about 10g of baked Pistachio Streusel on top, then bake at 340°F (170°C) for about 12 minutes.