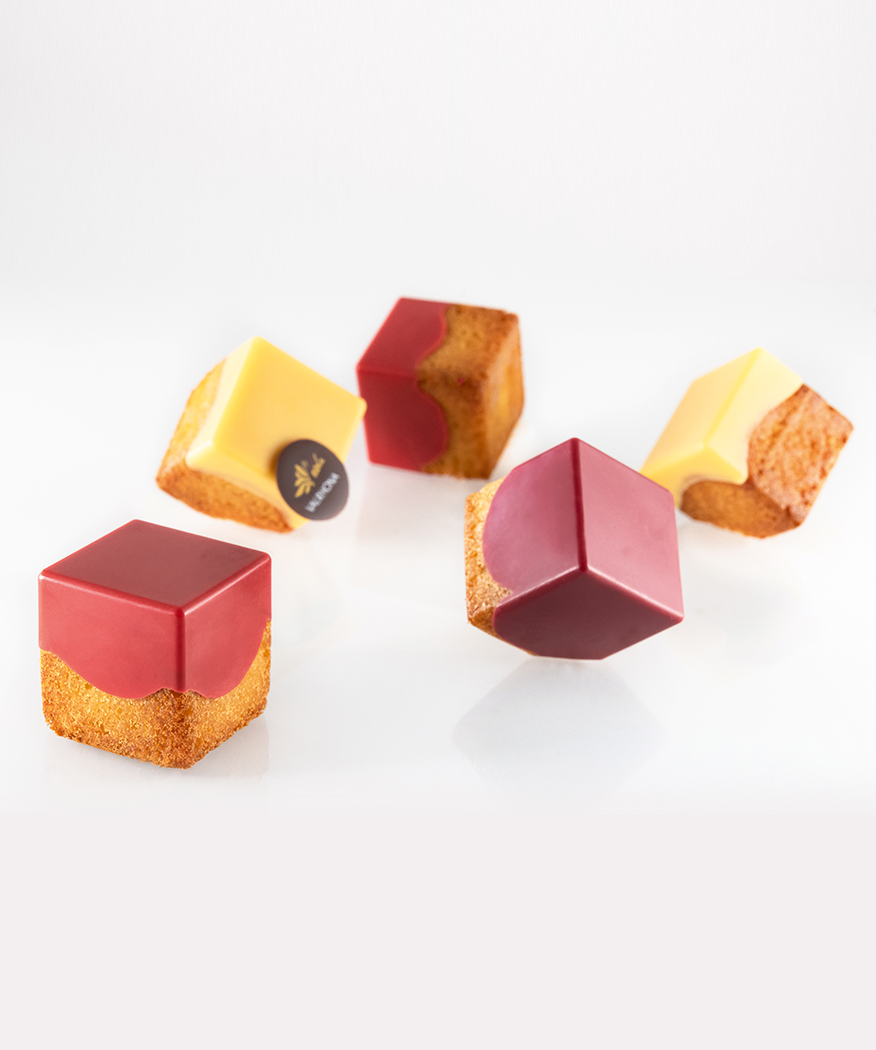 SUDO
An Original Recipe by L'École Varhona Makes 24 cakes
Category: Cakes and Tarts.
Difficulty: Medium
490 g whole eggs
140 g honey
240 g sugar
170 g almond flour
240 g all-purpose flour
14 g baking powder

230 g whole milk
190 g clarified butter (melted)

Inspiration Crunchy Finishing:
15 g cocoa butter

35 g grapeseed oil
INSTRUCTIONS
Almond Cake Mix

Mix together the eggs, honey and sugar.
Sift the flour and baking powder, then add these to the mix along with the powdered almond.
Pour in the milk and clarified butter.
Inspiration Crunchy Finishing
Mix the melted Yuzu Inspiration and melted cocoa butter with the oil.
Use at 85-95 °F (30-35°C).
ASSEMBLY & FINISHING
Prepare the cakes and add 20% (by weight) of the chopped Yuzu Inspiration. Fill 5 cm cube molds with approx. 70g of the mixture. Bake at 340°F (170°C) for approximately 15 minutes or until golden brown. Then freeze.
Turn out the cakes and store them in the refrigerator.
Finish using a piping bag without a nozzle to make a dab of crunchy frosting (approx. 15 g) in the square mold you used for your cakes, then put the cake cubes straight back on top to partially ice them.