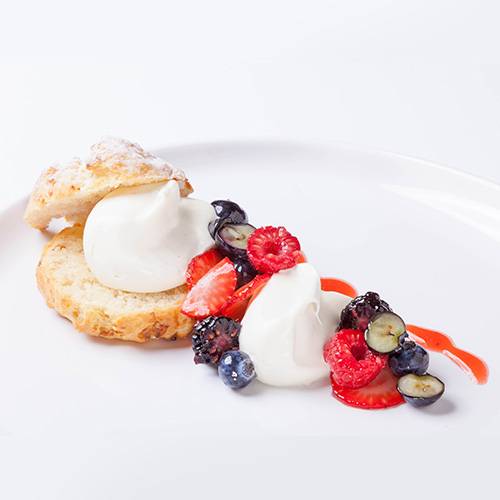 SUMMER BERRY SHORTCAKE
Category: Cakes and Tarts
Difficulty: Moderate
Prep Time: 15 min
Cook Time: 35 min
Total Time: 50 min
INGREDIENTS
For the Drop Biscuits:

195 grams
flour
15 grams
granulated sugar
7.5 grams
baking powder
2 grams
salt
310 grams
whipping cream
80 grams
Ivoire 35% White Chocolate
(chopped)
For the White Chocolate Whipped Ganache:
100 grams whipping cream
20 grams glucose or corn syrup
265 grams whipping cream (cold)
145 grams Ivoire 35% White Chocolate
INSTRUCTIONS
Drop Biscuits:
Combine all the dry ingredients. Add the whipping cream and mix until smooth. Add the chopped IVOIRE 35% chocolate.
Divide into 10 portions, shape into balls and place onto a parchment or silpat lined tray. Bake at 177°C (350°F) for 6-8 minutes, or until golden brown.
White Chocolate Whipped Ganache:
Combine the first portion of cream and glucose in a saucepan and bring to a boil.
Melt the Ivoire 35% chocolate, slowly in a microwave, to 43°C (110°F). Be careful not to burn the chocolate.
In several additions, add the hot liquid to the melted chocolate, stirring well between each addition.
Once all the hot liquid is combined, mix well with an immersion blender, then add the second addition of cold cream and mix again. Refrigerate at least 6 hours before using (overnight is ideal).

Assembly and Finishing:
Slice the biscuits in half and dust the top portion with confectioners' sugar.
Whip the ganache by hand until soft peaks. Place a large dollop on the bottom portion of the biscuit and garnish with assorted berries.
Finish with the biscuit top and berry sauce or puree.