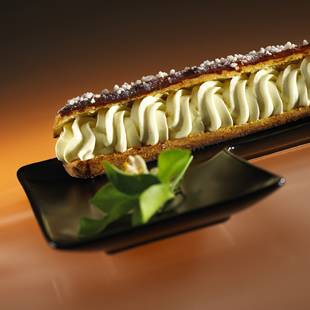 TARTE TROPÉZIENNE
Category: Cakes and Tarts
Difficulty: Moderate
Prep Time: 210 min
Cook Time: 20 min
Total Time: 230 min
INGREDIENTS
Brioche Dough:
2 cups flour
3 whole eggs
2 tbsp milk
2 tbsp + ¾ tsp sugar
½ tsp salt
¼ ounce fresh yeast (or one pack of active dry yeast)
5 ounces (10 tbsp) butter

Orange blossom whipped White Chocolate ganache:
5 tbsp water
5 ounces White Baking Chocolate
Ivoire 35% Baking Bar
1 cup whipping cream (heavy cream)
Orange blossom water (add to desired taste)

Soaking syrup:
3 ½ tbsp water
3 ½ tbsp sugar
Orange blossom water (add to desired taste)
INSTRUCTIONS
Warm the milk to 85°F degrees, and dissolve the yeast and salt. Fold in the sifted flour and salt, while adding 3/4 of the eggs. Lightly knead without over working the dough.
Add the rest of the eggs then mix thoroughly. Melt the butter and pour it over the dough without mixing it, and cover it with a cloth.
Place it in a warm place at about 80°F (27ºC) for 15-20 minutes until the butter runs under the dough.
Mix the dough manually using a spatula until it is smooth and fill into baking molds.
Leave to rise again in a warm place. Bake at 400°F (205ºC) for a few minutes so that the dough starts to rise uniformly.
Lower the temperature to 350°F (176ºC) and continue baking for approximately 12-14 minutes.
Make syrup with the water and sugar and the desired amount of the orange blossom.
Once the brioche has cooled, soak it in the syrup until it is fully soaked with the syrup and leave to drain the excess syrup.
Add orange blossom to desires taste.