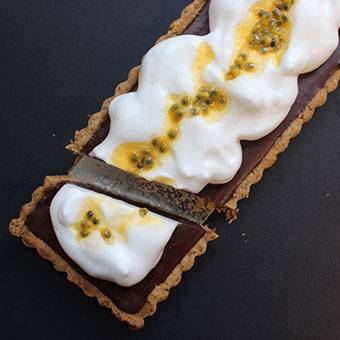 VEGAN ITAKUJA TART
Category: Cakes & Tarts
Difficulty: Medium
Tart Crust
1 1/2 cup all-purpose flour

1/2 cup toasted macadamia nuts, finely ground
6 Tbsp cold coconut oil

1/4 cup sugar

1/4 cup powdered sugar
1/4 cup vanilla extract
1/4 tsp salt
1/2 tsp orange zest
Itakuja Ganache Filling
1 cup Itakuja 55%
1 cup coconut cream
1 Tbsp honey (or agave)
Vegan Meringue Topping (optional)
1/4 cup aquafaba (chickpea water)
1/4 tsp cream of tartar
2 Tbsp sugar
Combine all of the ingredients in a stand mixer until it comes together in a solid ball.
Wrap in plastic wrap and chill for 30 minutes.
Roll out between two sheets of parchment paper. Use the rolling pin to lift the pastry and help you position it over the tin. Press the pastry in using your fingertips.
Line the tart tin with baking parchment and fill with ceramic baking beans or dried beans.
Chill for 30 minutes then bake at 350°F (177°C) for 20 minutes or until golden brown.
Itakuja Ganache Filling
Heat the coconut cream and honey until almost boiling.
Gradually pour the cream over the melted Itakuja and mix to combine.
Finish with an immersion blender.
Vegan Meringue Topping (optional)
Whip the acquafaba on medium high speed.
Once it starts to foam gradually add the sugar and cream of tartar.
Continue whipping until stiff peaks.
ASSEMBLY AND FINISHING
Once the tart shell cools, pour in the ganache.
Chill for 30 minutes to 1 hour.
Top with vegan meringue and garnish with passion fruit pulp to highlight the passion fruit flavors in the Itakuja 55% chocolate.