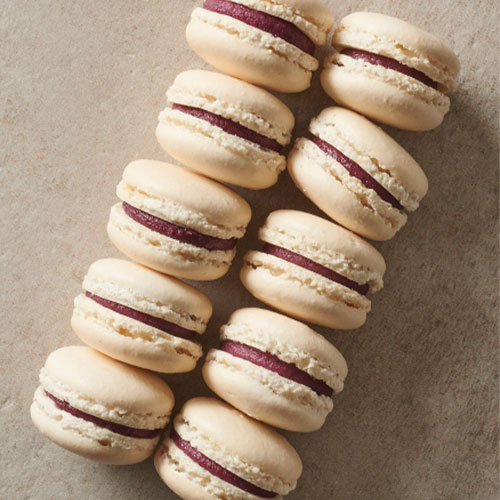 BLACK CURRANT IVOIRE 35% MACARONS
An original recipe by L'Ecole Valrhona
Category: Cookies and Bars
Yields 30 macarons depending on size
Difficulty: High
INGREDIENTS
Macaron Batter
150g almond flour
150g confectioners' sugar
50g egg whites
150g granulated sugar
50g water
50g egg whites

Black Currant Ivoire 35% Ganache
150g heavy cream
300g Ivoire 35% White Chocolate
135g black currant purée

INSTRUCTIONS
MACARON BATTER
Combine the almond flour with the confectioner's sugar and mix well.

Add the first addition of egg whites to form a paste and set aside.

Cook the 150g of sugar and water to 230°F/233.6°F (110°C/112°C) in a pot over medium/low heat.

Meanwhile, lightly whip the egg whites – on medium speed.

When the sugar is up to temperature, pour the sugar syrup into the whipped egg whites and sugar mixture.

Slowly pour down the side of the bowl to prevent the sugar from attaching to the whisk.

Beat at medium speed until the meringue cooled and thick, then add to the first mixture, in three additions.

Use a spatula to stir the mixtures together gently, scraping the sides of the bowl with each turn, until the batter is smooth, creamy and shiny. This is called "macaroning".
BLACK CURRANT IVOIRE 35% GANACHE
Bring to a boil the cream.

Melt the Ivoire 35% in a microwave in 30 second intervals until just melted.

Slowly pour the hot liquid over the melted chocolate in several additions, mixing well, to create a proper emulsion. Add the black currant pulp

Finish with an immersion blender and chill overnight before using.