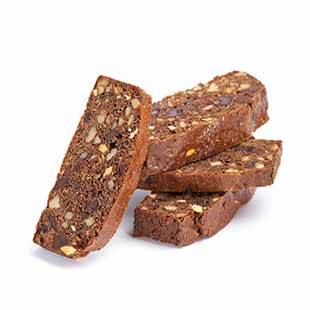 CHOCO BISCOTTO
Category: Cookies and Bars
Difficulty: Easy
INGREDIENTS
For 55 pieces
Choco Biscotto:
145 grams (5.1 ounces)
unsalted butter
145 grams (5.1 ounces)
light brown sugar
145 grams (5.1 ounces)
sugar
120 grams (4.2 ounces)
eggs
2 grams (½ tsp)
vanilla extract
55 grams (2 ounces)
chopped peanuts
70 grams (2.5 ounces)
Garaham cracker crumbs
110 grams (3.8 ounces)
chocolate cookie pieces*
180 grams (2.5 ounces)
pecan pieces
180 grams (6.3 ounces)
Valrhona Chocolate Chips 60%
305 grams (2.4 cups)
flour
4 grams (1 tsp)
baking powder
2.5 grams (½ tsp)
baking soda
4.5 (1 tsp)
salt
20 grams (0.7 ounces)
Valrhona Cocoa Powder
INSTRUCTIONS
Cream butter and sugar in the bowl of a stand mixer fitted with the paddle attachment.
Add eggs slowly, followed by the vanilla extract.
Add the peanuts, graham cracker crumbs and chocolate cookies, then add all the dry ingredients.
Add the pecans and chocolate chips. Mix them just until combined.
Line a sheet pan with a silpat and grease a 9cmx57cm rectangular frame. Press the dough evenly into the frame and chill for 30 minutes.
When ready to bake, egg wash and bake at 330°F (165°C) for 30 minutes.
Cool and slice into 1cm pieces.
Lay slices on their side and re-toast in on a silpain mat and perforated tray for 5-7 minutes at 325°F (162°C).
Cool and serve.

*Chocolate cookie pieces can be chocolate streusel, shortbread or any other chocolate cookie crumb.