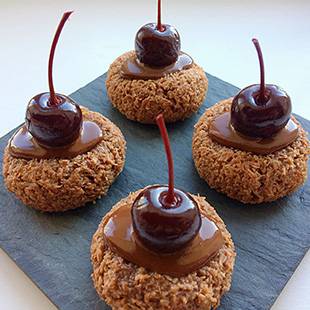 CHOCOLATE COCONUT MACAROONS
Original recipe by L'École Valrhona Pastry Chef Sarah Tibbetts.
Category: Cookies and bars
Difficulty: Easy
Serves 20 cookies.
INGREDIENTS
Macaroons
2 cups sweetened condensed milk
3 tbsp egg whites*
½ tbsp vanilla extract
⅓ cup Guanaja 70%, melted**
3 ¾ cups unsweetened shredded coconut
⅛ tsp salt
Garnish
20 chocolate feves or squares
20 cherries
Combine the sweetened condensed milk, egg whites, vanilla extract and melted chocolate in a bowl.
Mix well with a spatula, then pour over the shredded coconut and salt.
Mix until all the coconut is coated.
*Chef's Tip: Liquid egg whites are easier to scale and best in this recipe.
**Chef's Tip: melt the chocolate and then measure. Any Valrhona dark chocolate can be used in this recipe without adjusting the quantity of chocolate.
Garnish
Chef's Tip: opt for natural maraschino cherries or dark sweet, pitted cherries in liquid with stems. Drain and dry well before using.