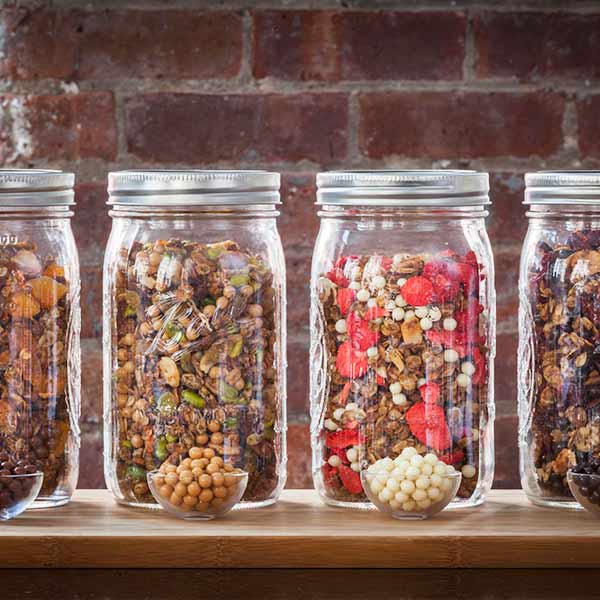 CHOCOLATE CRUNCHY PEARLS GRANOLA
One recipe of granola, 4 ways of twisting it with special tips from Chef Sarah Tibbetts, L'Ecole Valrhona Brooklyn.
Category: Cookies and Bars
Difficulty: Easy
Makes 55 pieces
INGREDIENTS
GRANOLA
4 ½ cups rolled oats
¾ cup light brown sugar
1 cup sliced almonds
¼ cup milk powder
½ cup buckwheat flour
¼ tsp cinnamon
½ tsp salt
¾ tsp vanilla extract
½ cup unsweetened coconut flakes
½ cup unsalted butter, melted
⅛ cup coconut oil, warm
⅛ cup grape seed oil
¼ cup honey
½ cup water

PEARLS & FRUIT
1 cup Opalys 33% Crunchy Pearls
½ cup freeze dried strawberries

or

1 cup Caramelia 36% Crunchy Pearls
¾ cup dried apricots, diced

or

1 cup Dulcey 32% Crunchy Pearls
½ cup golden raisins
½ cup pistachios

or

1 cup Dark Chocolate 55% Crunchy Pearls
¾ cup dried cranberries
Combine the first seven ingredients in a large bowl.
Add coconut flakes, breaking into smaller pieces if necessary. Combine the melted butter and oils together.
Add the dry mix, then add honey and water. Thoroughly mix until combined.
Spread on a parchment lined baking sheet and place in a 325-335°F oven for 10-15 min or until light golden brown.


*Chef's tip: for a great gift idea, place in decorative glass jars and add your own creative touch.
Add desired combination of pearls and dried fruit once cooled. Store in airtight containers for up to 2 weeks.