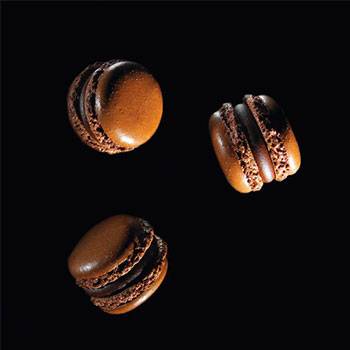 DARK CHOCOLATE MACARONS
An original recipe by L'Ecole Valrhona
Category: Cookies and Bars
Difficulty: Hard
Prep Time: 60 min
Cook Time: 12 min
Total Time: 72 min
INGREDIENTS
Macaron Shells:
¾ cup
almond flour
1 ⅓ cup
confectioner's sugar
INSTRUCTIONS
Macaron Shells:
Sift the confectioner's sugar.
Mix together the almond flour, the sifted confectioner's sugar and the cocoa powder.
Heat the sugar with the water to 230°F (110°C).
Begin whipping half of the egg whites in a stand mixer on medium speed. Once they are at soft peaks, slowly pour the sugar syrup onto the beaten whites. Continue whipping until the mixture is lukewarm (around 115°F [46°C]).
Add the other half of the unbeaten egg whites to the dry ingredients, to create a paste.
Add the whipped egg whites into the paste mixture in three parts. For the first addition, mix vigorously by hand to eliminate lumps. The second part should be added more gently and the last amount folded in.
With a pastry bag fitted with a medium sized plain tip, pipe the shells (around an inch in diameter) on the baking sheet covered with parchment paper or a silicone mat.
Place in a 300°F (149°C) oven for around 12 minutes, rotating carefully halfway through the baking.
Dark Chocolate Ganache:
Bring the cream to a boil
Melt the Caraïbe 66% Dark Chocolate to 105°F (41°C).
Gradually pour the cream over the melted CARAÏBE 66% in several additions, mixing well with a spatula before adding more liquid.
Pour into a shallow dish or pan and place plastic wrap directly on the surface of the ganache. Let the finished ganache set for a few hours in the refrigerator or overnight at room temperature.
When the ganache has set, pipe with a plain tip on the flat side of a macaron and stick another macaron on top. Press to sandwich together.