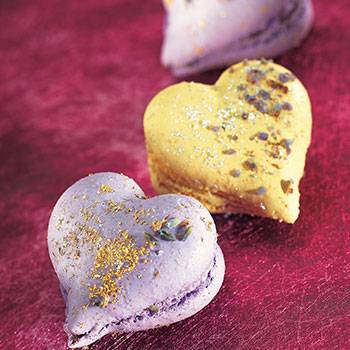 GINGER WHITE MACARONS
Category: Cookies and bars
Difficulty: Hard
Prep Time: 60 min
Cook Time: 12 min
Total Time: 72 min
INGREDIENTS
1 cup ground
almonds
1 cup
powdered sugar
2
egg whites, slightly whisked
2
egg whites
⅔ cup
sugar
2 ounces
water
Red Food Coloring
, as required
9 ounces
White Baking Chocolate Ivoire 35%
5 ounces
heavy cream
⅛ cup
chopped candied ginger
INSTRUCTIONS
Macarons:

Sift together the almonds and powdered sugar.
Cook the ⅔ cup of sugar and the water at a temperature of 230°F (110°C), then add to the whisked egg whites. Continue to whisk until the mixture is lukewarm.
Add the remaining 2 egg whites (unwhipped) and the food coloring, to desired color.
Add the mixture to the sifted powdered sugar and almonds.
Pipe a series of heart-shaped macaroons onto baking paper or a silicone sheet. Cook in the oven at 300°F (149°C) for approximately 12 minutes, depending on the size of your macaroons.
Whipped Ivoire ganache:

Heat 2 ounces of heavy cream. Slowly pour over the White Baking Chocolate Ivoire 35% to make a ganache.
Add the remaining cold cream to the ganache and mix until it is completely emulsified and smooth.
Put the ganache in the refrigerator and leave to set for at least 3 hours, then whisk to obtain a melting texture before adding the chopped ginger.
Sandwich the macarons together with the ganache.