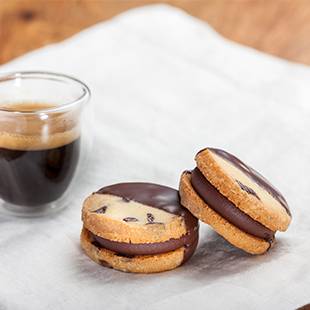 CHOCOLATE PEARLS SANDWICH COOKIES
Category: Cookies and bars
Difficulty: Easy
Prep Time: 20 min
Cook Time: 6 - 8 min
Total Time: 30 min
INGREDIENTS
Calculated for 20 cookies
Cookie Dough:
265 grams European butter
105 grams confectioner's sugar
25 grams egg yolks
5 grams vanilla extract
295 grams flour
295 grams Valrhona Baking Pearls

Filling:
9 ounces (260 grams) Oriado 60%
335 grams whipping cream
50 grams invert sugar
INSTRUCTIONS
Cookie Dough:
Cream the butter and sugar in the bowl of a stand mixer with the paddle attachment.
Slowly add the egg yolks, followed by the vanilla extract. Add the flour and mix just until combined.
Finish by adding the chocolate pearls.
Divide into 6 portions and chill before rolling into 9 inch logs.
Freeze dough before cutting.
Filling:
Bring the cream to a boil.
Melt the chocolate and slowly pour the hot cream over in several additions, mixing well to create a proper emulsion.
Process with an immersion blender to perfect the emulsion and crystallize overnight at 65°F before using.
Assembly & Finishing:

Cut the frozen logs of cookie dough into 1cm slices and place on a silpat lined baking tray.
Bake at 335°F (168°C) for 6-8 minutes.
Trim the edges with a cutter after removing from the oven.
Once the cookies are cooled, pipe the filling onto one half and place another cookie on top, pressing the two together.
Dip half of the cookie in melted dark chocolate before serving.