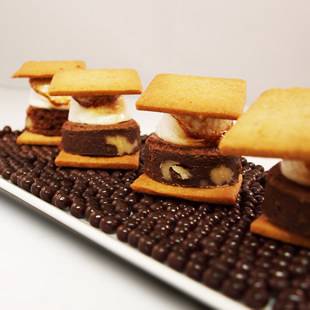 VALRHONA S'MORES
Category: Cookies and bars
Difficulty: Moderate
Prep Time: 15 min
Cook Time: 25 min
Total Time: 40 min
INSTRUCTIONS
In a microwave safe bowl melt the Grand Cru Dark Baking Chocolate Caraibe 66% and the butter together in intervals of 30 seconds. (See our "How to temper chocolate" tips)
Scrape the seeds out of the Vanilla
Mix the eggs, sugar and vanilla with a whisk until all of the sugar is fully incorporated.
Add the Grand Cru Dark Baking Chocolate Caraibe 66% and butter mixture into the egg batter.
Mix well until fully incorporated.
Add the sifted flour and mix well until all the flour is fully incorporated.
Lastly, add the walnut pieces and mix well.
Pour the batter in into a 12x9 in. (aprox) cake pan.
Bake at 320°F (160°C) with fan on for 20 - 30 mins (45 min without fan).
Use a skewer to pierce the middle of the cake; make sure that there is no batter adhered to the skewer.
Cool and cut to portion. Mix the dry ingredients (Except for dark brown sugar in a mixing bowl using the paddle attachment. (You can also use a hand mixer.)
Add cold, cubed butter to the dry ingredients (mix until the butter is pea-sized).
Add the eggs and milk to the mixture and combine. Add the muscovado sugar just before the mixture is fully combined.
Place the dough between 2 sheets of parchment paper and roll out to a thickness of 1/16". Set aside in the refrigerator.
Once the dough has relaxed cut out into squares shapes (2.5x2.5in) or circles (1 in diameter).
Place on a sheet pan and bake at 350°F (176°C) until golden brown.