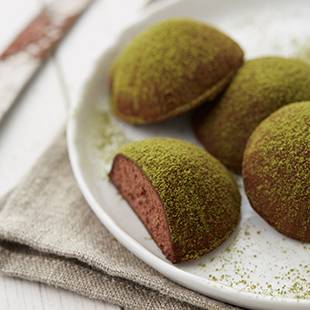 CHOCOLATE MOCHI
Category: Cremes and Mousses
Difficulty: Hard
INGREDIENTS
CHOCOLATE MOUSSE:
6cl milk
6.1 ounces (175 grams) Oriado 60% Chocolate
25cl whipping cream
MOCHI DOUGH:
100 grams glutinous rice flour
20 grams Cocoa Powder
30 grams corn starch
150 grams sugar
20cl water
INSTRUCTIONS
CHOCOLATE MOUSSE:

Heat the milk, then pour it onto the chocolate which you have melted in advance, stirring vigorously with a whisk all the while.
At the same time, whip the liquid cream until it has an airy mousse texture.
Once the milk and chocolate mixture has reached a temperature of 113°F (45°C), add in the whipped cream and carefully mix it with a spatula.
Put the preparation in a piping bag and pipe out little domes.
Store in the freezer.
MOCHI DOUGH:

Mix the flour, cocoa powder, corn starch and sugar. Gradually add the water.
Put the mixture in the microwave for 1 minute at 600W. Mix, then repeat three times. Every time, beat the dough thoroughly until it is thick enough to spread out.
ASSEMBLY:

Sprinkle corn starch over the work surface and place the Mochi dough on it. Cover with corn starch.
Roll out the dough in a thin layer (approx. 2mm) using a rolling pin. Cut out 24 disks with a diameter of 6cm, and 24 disks with a diameter of 5cm.
Place a dome of mousse on the center of each little disk, then put a larger disk on top.
Use a cutter to press down the larger disk's edges and seal the two together.
Sprinkle with cocoa powder and store in the fridge until it is time to eat them.
*Chef's tip: You can sprinkle the Mochis with Palais des Thés matcha tea.