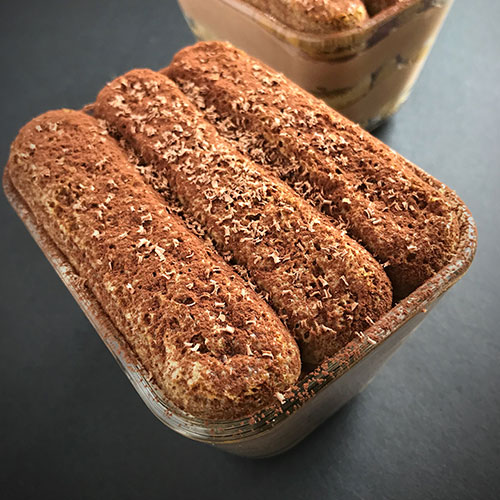 GUANAJA 70% TIRAMISU
Makes 4 square dishes (serves 8)
Category: Crèmes and Mousses
Difficulty: Easy
INGREDIENTS
Chocolate Mascarpone Cream:
5 ea
egg yolks
16 oz (435 g)
mascarpone
1 ½ cups (350 g)
heavy cream
5.3 oz (150 g)
Guanaja 70% Dark Chocolate
½ cup (110 g)
granulated sugarSoaking Syrup:
2 ½ cup (375 g)
espresso or strong coffee
1
¼
tbsp (15 g)
granulated sugar
2 ½ tbsp (50 g)
coffee liquor
INSTRUCTIONS
Chocolate Mascarpone Cream:
Whip the cream to soft peaks and reserve in the refrigerator.
In a mixing bowl, combine the yolks and sugar and cook over a pot of simmering water, whisking constantly, until slightly thickened. The temperature should reach 183-185°F (84-85°C).
Remove from the heat and continue to whisk until ribbons form.
Whisk in the room temperature, soft mascarpone (mixture may appear to be separated but will come back together).
Melt the Guanaja 70% Dark Chocolate in a microwave and add to the mixture, whisking until smooth.
Check the temperature - the mix should be around or below 95°F (35°C) before folding in the whipped cream.
Use immediately.
Soaking Syrup:
Brew coffee or espresso. Add sugar and liquor.
Set aside until cooled.

Assembly and Finishing:
Place the ladyfingers, one at a time, in the soaking syrup, briefing soaking both sides. Do not over saturate as the cookies will soak up the liquid quickly and will break apart.
Line the bottom of the dish with 2-3 cookies.
Place several spoonfuls of the chocolate mascarpone cream directly on top, smoothing slightly to create an even layer.
Place 2-3 more soaked ladyfingers on top, followed by more cream, continuing the layers until the top of the dish is reached.
Finish the top with soaked ladyfingers and refrigerate for a minimum of 12 hours.
Before serving, dust with cocoa powder and chocolate shavings created by grating the Guanaja 70% Dark Chocolate feves on a microplane.