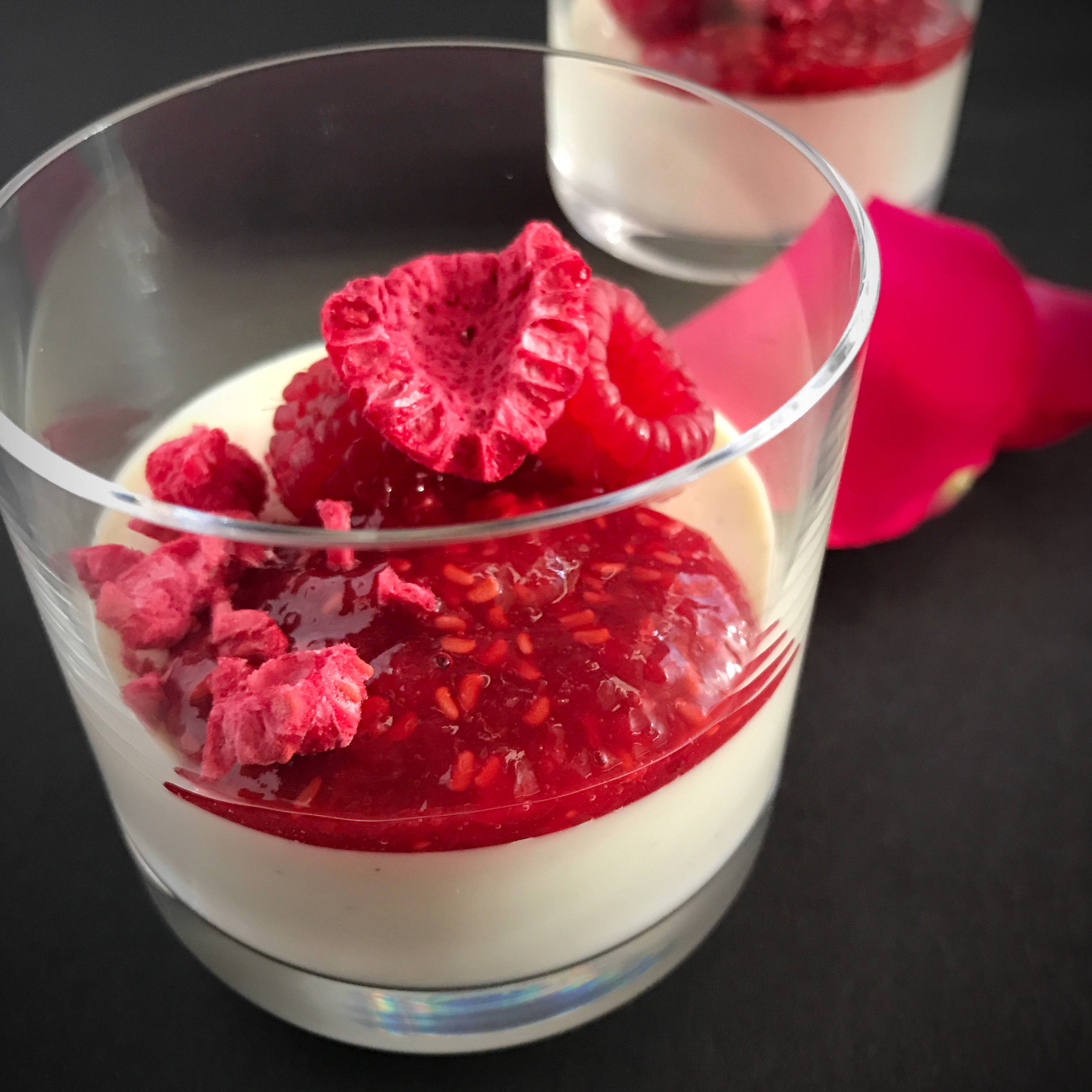 RASPBERRY ROSE PANNA COTTA
Category: Crèmes and Mousses
Difficulty: Medium
8 Servings
INGREDIENTS
WHITE CHOCOLATE PANNA COTTA:
1 ⅔ cup milk
¾ cup heavy cream
1 cup Ivoire 35% Chocolate chopped
3 tsp powdered gelatin
3 tbsp water, cold
2 bean Norohy Vanilla Bean
RASPBERRY ROSE COMPOTE:
2 cups fresh raspberries
4 tbsp sugar
½ tsp rose water
INSTRUCTIONS
WHITE CHOCOLATE PANNA COTTA:

Measure the cold water in a small ramekin and sprinkle the powdered gelatin over top. Mix to completely saturate the gelatin and set aside.
In a medium saucepan, combine the milk and cream with the vanilla bean that has been scraped (add the seeds only) and bring to a boil.
Add the gelatin to the hot liquid and mix until dissolved.
Melt the chocolate in the microwave in 20 second intervals until just melted. Slowly pour the hot liquid over the melted chocolate in several additions, mixing well before adding more.
When all the liquid is incorporated, process with an immersion blender for 30 seconds to ensure proper mixing.
Let cool slightly before pouring into 8 glasses. Chill until ready to serve.
RASPBERRY ROSE COMPOTE:

In a small saucepan, mash together the sugar and raspberries to release the juice.
Cook over low heat until the sugar is melted and the juice thickens slightly (about 5-7 minutes).
Cool completely before adding the rose water.
ASSEMBLY:

Place a spoonful of the raspberry rose compote on top of the white chocolate panna cotta.
Garnish with more fresh raspberries and freeze dried raspberries.
Serve immediately.