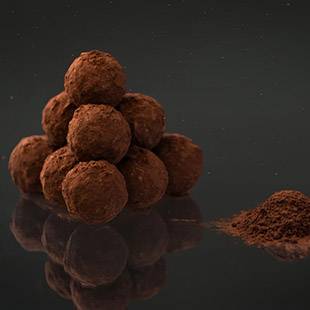 BOURBON WHISKEY TRUFFLES
Category: Truffles, bonbons and candies
Difficulty: Easy
Prep Time: 0 min
Cook Time: 20 min
Total Time: 20 min
INSTRUCTIONS
Bring the cream to a boil. Pour ⅓ of the cream over the chopped Grand Cru Dark Baking Chocolate Caraibe 66%
With a spatula, mix rapidly to obtain a smooth and glossy texture. Gradually add the remaining cream, making sure to keep the smooth and glossy emulsion.
Mix until the chocolate is completely emulsified.
(For a perfect emulsion, see our "What is an Emulsion?" tips)
Stir in softened butter and mix thoroughly. Then add the Bourbon and stir.
Leave the ganache to chill until i is set for about 12hrs.
Assembly:

Put the ganache in a piping bag.
Pipe small balls on the greaseproof paper. Roll ball between your hands to make a regular shape.
Roll the truffle in Valrhona Cocoa powder.