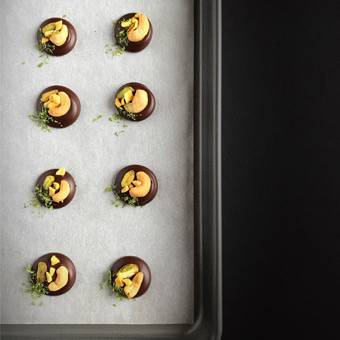 ITAKUJA MENDIANTS
An original recipe by Sarah Tibbetts, L'École Valrhona Pastry Chef
Category: Truffles, bonbons and candies
Difficulty: Moderate
Gluten Free & Vegan Recipe
Temper the Itakuja 55% Dark Chocolate by either the tabbling or seeding method. To learn how to temper, view our video here.
Using a paper coronet or plastic piping bag, take a portion of tempered chocolate and pipe coin sized rounds on a parchment paper lined tray.
Pipe one row of rounds in a line, and place your desired combination of fruit and nuts on the chocolate before it begins to set.
Repeat this process, warming the chocolate as needed to keep it in temper but allow for easy piping.
Once all the mendiants are done, set aside in a cool area (do not refrigerate) until fully crystallized (about 1-2 hours depending on room temp). Store in an airtight container.


*Chef's tips: Any Chocolate variety or flavor combination can be used. Nuts should be lightly toasted and cool before using, and chopped if desired. Fruits can be dried or freeze dried, but not fresh as they have a high water content. Note that freze dried fruit is not a good option in humid temperatures as it absorbs moisture. Zest (lemon, orange, or lime) should be done at least one hour before making the mendiants in order to dry slightly. The citrus can be zested directly on a piece of parchment paper and air dried.