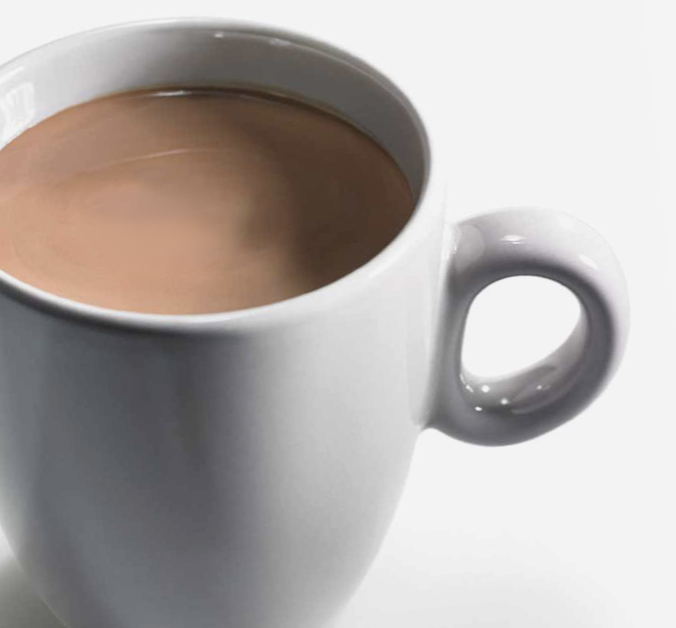 ALMOND HOT COCOA
An Original Recipe by Michael Recchiuti
Category: Beverage
Difficulty: Easy
Dairy-Free Recipe & Vegan Recipe
INGREDIENTS
Calculated for 3.5 cups/600g/12-50g portion
Almond Milk
145g whole blanched almonds (if whole rough chop for better infusion)

480g filtered water
355g filtered water
200g fresh filtered water

Burnt Caramel Base
700g cane sugar
240g water
Almond Inspiration Beverage Assembly
480g almond milk

80g (12 tsp) burnt caramel base
Soak the whole almonds in 478g of cold filtered water for at least 24 hours.
Drain the nuts and put them in a blender with 355g of fresh, filtered water.
Blend for 3 minutes at high speed.
Scrape down the sides and add up to 200g of fresh filtered water to the blender.
Blend for at least another minute.
While the blender is running, place a fine-mesh strainer a large measuring cup or bowl. Line strainer with cheesecloth to capture fine particles.
Pour blended almond pulp over a strainer and allow to strain naturally for about 5 minutes. Gently press the pulp with the back of a ladle to press liquid thru.
After 15 -20 minutes of draining, carefully draw up edges of the cheesecloth and twist them together as you start to press into a ball of pulp to extract the remaining milk.
Pour strained almond milk into a lidded glass jar, and chill. It should keep well in the refrigerator for 3-4 days. Give the jar a shake before serving.
Burnt Caramel Base
Place the sugar in a heavy-bottomed pot. Place over medium heat and cook, stirring occasionally with a wooden spoon, until sugar melts.
Then continue to cook, without stirring, until the sugar turns deep amber.
If any crystals start to form on the sides of the pan as the sugar darkens, wash them down with a wet pastry brush.
Just before the sugar turns black, the sugar syrup may foam up. If it does, reduce the heat to low and, wearing an oven mitt, carefully stir foam down.
When the sugar is ready, it will smoke, and large bubbles will break on the surface.
While the sugar is cooking, bring water to a boil in a small saucepan. When the sugar is black, remove from heat and a fine-mesh sieve or splatter screen over the pot with sugar. Wearing an oven mitt, slowly pour the hot water into the sugar syrup a little at a time. The mixture will sputter, steam and foam. Be careful, as it is very hot.
Allow to cool, store at room temperature indefinitely. This syrup can be used for many baking applications.
ASSEMBLY & FINISHING
Place warm almond milk (85-90°C/185-194°F) in a bowl and then whisk in the melted Almond Inspiration (95-110°C/203-230°F).

Fill the bottom of 12g- 4oz cups each with one teaspoon of Burnt Caramel Base (at room temperature).
Pour almond mixture over burnt sugar syrup, serve while at room temperature.