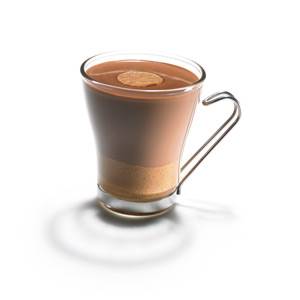 PRALINÉ BAHIBÉ HOT CHOCOLATE
An original recipe by Chef Paul Saiphet from l'École Valrhona
Category: Beverages
Difficulty: Easy
Prep Time: 20 min
Total Time: 20 min
INSTRUCTIONS
PRALINÉ BAHIBÉ:
Bring cream to a boil.
Gradually pour the cream over the Bahibé 46% chocolate and praliné, stirring from the center to create a shiny and elastic core, which shows the start of an emulsion.
Continue mixing, gradually adding the liquid.
Mix with a hand mixer to finish.
Served hot with crushed Maldon salt and citrus foam.

*Chef's tip: Add a splash of Frangelico for an extra kick.
CITRUS FOAM:
Hydrate the gelatin in cold water.
Heat the milk and infuse with the lemon zest for around 10 minutes. Strain.
Add the sugar and bring to a boil again. Then add the gelatin.
Set aside in the refrigerator.
Blend with hand blender until frothy.