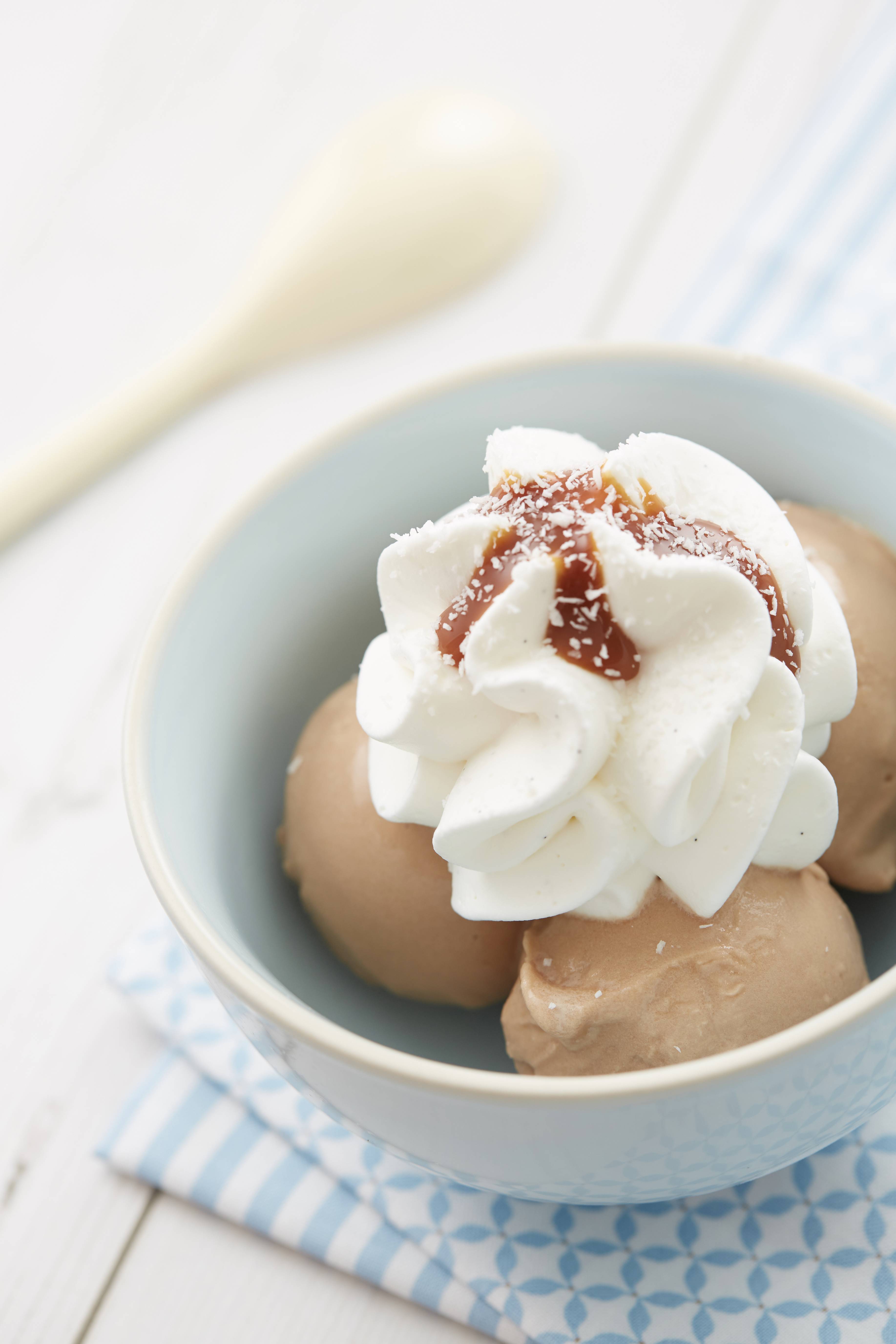 ANDOA ICE CREAM WITH A TOUCH OF CARAMEL
Category: Crèmes and Mousses
Difficulty: Easy
INGREDIENTS
Makes approximately 8 servings
50 grams
non-fat dry milk
215 grams
39% Milk Chocolate
115 grams
sugar
230 grams sugar
15 grams corn starch
175 grams whipping cream
750 grams water
90 grams sweetened condensed milk
INSTRUCTIONS
Andoa Ice Cream
Heat the water with the corn starch and non-fat dry milk.

Add the smaller portion of the sugar to the mixture.

Once it is almost boiling, pour it gradually over the partially melted Andoa 39% milk chocolate, stirring vigorously.

Bring to a boil, and then chill the mixture.
*Tip: Infuse the liquid mixture with coffee beans for an added boost of flavor.
Caramel Sauce
Use the second quantity of sugar to make a dry caramel, by heating it in a pan over low heat. Deglaze it with hot cream.

Add the sweetened condensed milk and mix it in an electric mixer.

Store it in the refrigerator.
*Tip: Infuse spices like cinnamon or lemon zest in the cream for an added flavor in your caramel.
ASSASSEMBLY
Use an ice cream maker to make the ice cream.

Place a storage container in the freezer to chill before using.

Pour the ice cream mixture into the ice cream maker and churn until it has a creamy texture.

Put the ice cream in the previously cooled storage container.

Serve with whipped cream, Caramel Sauce, a sprinkle of Cocoa Powder, or fresh fruit.
*Tip: If you do not have an ice cream maker, freeze the mixture in very flat plastic bags. Once it is very hard, chop it thoroughly and mix in an electric mixer. Put the beaten ice cream in a chilled bowl and store in the freezer.