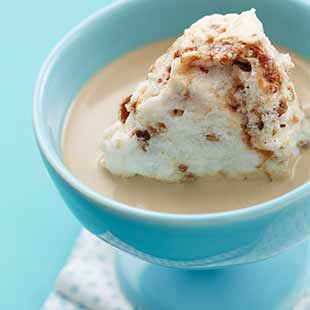 PRALINE ILES FLOTTANTES
Category: Crèmes and Mousses
Difficulty: Easy
INGREDIENTS
Candied Hazelnut
60 grams (2.12 ounces)
sugar
3cl (1 fl. ounces)
water
125 grams (4.4 ounces)
whole hazelnuts
Pralin Crème Anglaise
70 grams (2.5 ounces)
Almond And Hazelnut Praliné 50%
70 grams (2.5 ounces)
egg yolks (3 yolks)
40cl (1.4 fl. ounces)
whole milk
10cl (0.34 ounces)
whipping cream

Îles Flottantes (Floating Island)
200 grams (7.1 ounces) egg whites (4 whites)
100 grams (3.5 ounces) sugar
30 grams (1 ounces) candied hazelnuts
INSTRUCTIONS
Candied Hazelnuts
Heat the sugar and water at 237°F (114°C) for 5 minutes in a large pan until you have a syrup.
Add the hot hazelnuts and mix with the syrup for 10 mins on very low heat until the sugar starts to caramelize.
Pour the mixture onto a sheet of baking paper and leave it to cool.
Praline Crème Anglaise
Use a whisk to mix the praline and egg yolks.
Boil the milk and cream. Then pour some of this hot mixture onto the praline and egg yolk mix, stirring all the time.
Heat to 185°F (83°C) until the mixture coats the back of a spoon.
Îles Flottantes
In the electric mixer, beat the egg whites until stiff and add the sugar.
Use a spatula to carefully add the roughly broken up chouchous.
Pour the mixture into a flat-sided terracotta or glass dish. Smooth the surface with a spatula.
Cook in a bain-marie in the oven at 338°F (170°C) for 30 minutes.
*Chef's tip: To give your Iles an attractive topping, grease the Pyrex dish with butter then sprinkle with brown or white sugar until the inside of the mold is coated.
You can enjoy the hot egg whites as soon as they are out of the oven with the cold crème anglaise, or leave them in the fridge overnight and eat them chilled.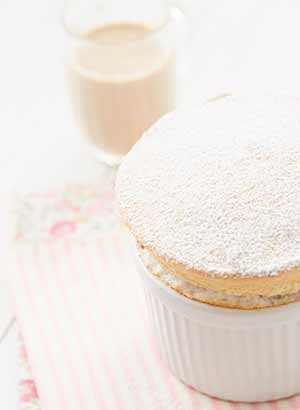 Warm floating island